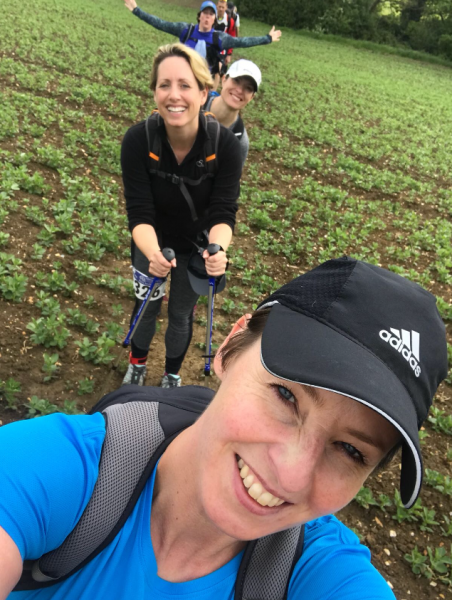 Four women from Brightlingsea in Essex are preparing to take part in a 100km walk over 24 hours to raise money for Blind Veterans UK, the national charity for blind and vision-impaired ex-Service men and women.
Nicola Pryer, 38, works for the charity and will tackle the challenge this July in a team with her friends Tessa Bates, 40, Tasha Hales, 43, and Marsha Robinson, 39. The group have been training over the past three months for the 100km walk from London to Brighton.
Nicola says: "Marsha and I started with a couch to 5K in July 2017 which quickly led to us doing a half marathon, training with Tash and Tess. Then before I knew it I'd shared the link to this event with them and we had all signed ourselves up. You might say we're mad, in fact I think we'd all admit that, but I'm sure it's going to be a brilliant experience."
Nicola started working as a community support worker for Blind Veterans UK in November last year. She admits it's her passion for her work which lead her to want to fundraise for Blind Veterans UK.
Nicola says: "As a community support worker I help blind veterans in the local community access the support they need, be it specialised equipment, social interaction with other veterans through reunions and lunch clubs, or life skills training in cookery, art or IT."
"It's no underestimation to say that the support of Blind Veterans UK can completely turn someone's life around. My friends have seen how passionate I am about the work that I do and I think that's really helped with our fundraising."
Tasha also has a personal connection to the Armed Forces, having served for three years as a medic with the Airmobile Field Ambulance. Her husband currently serves as an Officer in the Armed Forces and she is committed to the charity and everything it stands for.
Tess added "As working parents of younger children, fitting training into already busy lives has proved more of a challenge than we anticipate the event might be!"
Marsha explained: "Last weekend we were all out of the house at 5am and didn't get back till late afternoon. Trying to squeeze in long walks between school drop offs and work has been really hard, but it's for a great cause which has kept us going."
The group have also been busy raising sponsorship for their walk, including holding two car boot sales and a cake sale, from which they made nearly £400.
Tessa says: "People have been so generous already but we want to raise as much as possible for this fantastic charity."
As for how the group will keep themselves motivated during the 24 hour walk in two weeks' time, Nicola says: "We are determined to do this together and with lots of chatting with good friends and other participants we are hopeful it will see us through."
You can still support Nicola, Tessa, Marsha and Tasha in their fundraising efforts at justgiving.com/fundraising/tessanicmarshatasha.
ENDS
For all media enquiries please contact: Mark Wheeler, PR Manager, Blind Veterans UK, 12 – 14 Harcourt Street, London W1H 4HD, E: mark.wheeler@blindveterans.org.uk, T: 020 7616 7980
Notes to Editors
Blind Veterans UK
Blind Veterans UK is a national charity that believes that no-one who has served our country should have to battle blindness alone. Founded in 1915, the charity provides blind and vision impaired ex-Service men and women with lifelong support including welfare support, rehabilitation, training, residential and respite care.
Find out more at: blindveterans.org.uk, follow us on Facebook at: facebook.com/blindveteransuk and on Twitter at: twitter.com/blindveterans.