Four-year-old Rory Scullion, who lives in Poole, will be running 1km at the Bournemouth Marathon Festival tomorrow against all the odds. Rory has cerebral palsy and wears knee high splints on both legs – but mum Abbie said he won't let that hold him back. Rory, who started school in September, is practising for the big day by walking the kilometre to school every day and is getting lots of support and sponsorship from the local community.
He will be raising money for SSAFA, the Armed Forces charity, which secured funding for a specially-adapted trike recommended by his physiotherapist.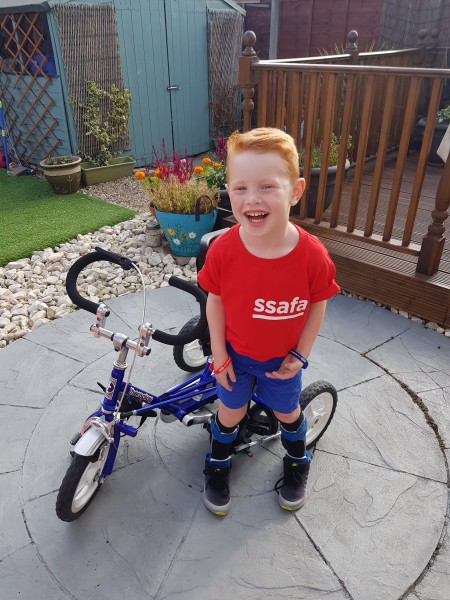 Rory's brain was starved of oxygen at birth and as a newborn he spent several days in an induced hypothermic state at Southampton General Hospital to prevent further damage. Abbie said: "It was a really dark time and doctors couldn't really predict the extent of the damage at the time. As it turned out he is a little superstar. He is so determined and it is only his gross motor movements that have been affected.
"He has regular physiotherapy sessions and the physio had recommended a specially-adapted trike but it cost £1400. We had tried balance bikes and normal bikes but they weren't working for him so this seemed like the ideal solution."
Abbie's husband Ross serves in the Royal Navy as a Petty Officer (Air Crewman) and Abbie – who is fourth generation Royal Navy, served 11 years, initially as a dental nurse and later as a photographer. This made her eligible for support from SSAFA.
She said: "SSAFA was the obvious point of call really. Our caseworker, Barbara, came to see me and talked everything through and a little while later she called to say she had managed to raise the money for the trike.
"It was amazing. I was so overwhelmed when she called and it was brilliant timing as we managed to get the trike for Rory just in time for Christmas. The trike is amazing because it allows him to join in with the other children at the park.
"We would never have been able to afford it without help so when we saw the marathon was coming up we thought it would be a great opportunity to give back."
Abbie said: "He has achieved so much – we're so proud of him. We'll all be cheering him on on the day. It's nice to be able to give back and pay forward the kindness for other Service families in need of a bit of help."
To donate to little Rory's page, head to: https://uk.virginmoneygiving.com/AbbieScullion. 
Notes to editors:
SSAFA, the Armed Forces charity, has been providing lifelong support to our Forces and their families since 1885. Every year our staff and team of volunteers help more than 73,000 people, from Second World War veterans to young men and women who have served in more recent conflicts.
For more information visit www.ssafa.org.uk and follow us on Twitter @SSAFA.