Not every eighteenth birthday celebration reaches such dizzy heights, and comes back down to earth so quickly, but for Perthshire teen Cormac Sharpe – who took part in a tandem fundraising skydive with mum Connie – that's exactly what happened.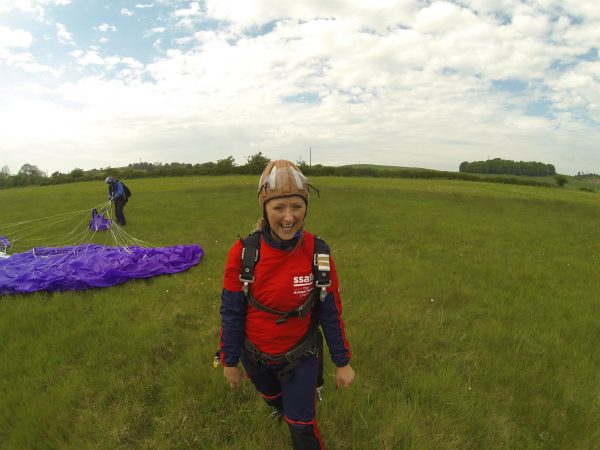 The daring mum-and-son duo made the skydive for SSAFA, the Armed Forces charity in memory of beloved father and grandfather Robert "Rab" Davidson, who served in the Black Watch for more than 24 years, but died suddenly in May 2019. So far, some £1,800 has been raised to help the UK's oldest tri-service charity carry on its work for veterans, serving personnel, and their families when, where, and how they need it.
After the leap, done with the assistance of Skydive St Andrews at Fife Airport, Cormac said:
"Jumping out of the plane was definitely the best bit, but completely different from what I thought it would be like, I just can't explain it.

"The freefall was so weird: one minute I was facing the ground and the next I can see the plane above me. It's an experience I'll never forget, especially as it was over my eighteenth birthday weekend, so it was great to finish of the celebrations with this. We're delighted with the amount of money we've raised so far for SSAFA, and I'm sure Grandad would have been proud of us both."
Also safely back on terra firma, Connie said:
"From day one, I don't think it really sank in what we were taking on. I mean, I'm not a confident flyer, I'm petrified of birds, don't particularly enjoy heights, not great with spinning things, and my ears pop at any given moment!

"So a skydive was quite out my comfort zone, but once the donations started coming in, I became more and more excited, and we had great support from family, friends, and SSAFA personnel. That really got us going. "
Explaining why they chose SSAFA Perth & Kinross, Connie said:
"When Dad passed away, everyone at SSAFA Perth & Kinross was so supportive to us all – especially my mum – helping us through such a tragic time, so this, as well as the many close military ties in my family and beyond, meant it just felt right to support this branch of SSAFA."
Despite – or perhaps in spite of – her fear of heights, flying, and birds, Connie said that she did not scream once, adding:
"The experience was something that I just can't explain; I was just in awe of the situation and my surroundings, and it was so special and to be able to do this with my son.

"Cormac really made it a day to remember, and I'm sure Dad would have been smiling down on us with pride at what we have achieved."
Angela Watson, SSAFA Perth & Kinross Branch Secretary, summed up saying:
"I was talking with Connie's mum, and she was so proud of them both. It was a fantastic day, and I was so glad I was there to witness Connie and Cormac achieve this in memory of Rab."
Connie and Cormac have so far raised £1,806 through their JustGiving page and bucket collections, and the page will remain open until the end of May.
For more information, visit ssafa.org.uk.