Born in 1959 in Kensington, Dennis Hayes is a London Cabbie and sits on the committee of a charity very close to his heart, The Taxi Charity for Military Veterans. Before becoming a cabbie, Dennis had a 26-year career with the military and then worked in the security business in the UK and abroad, before doing The Knowledge.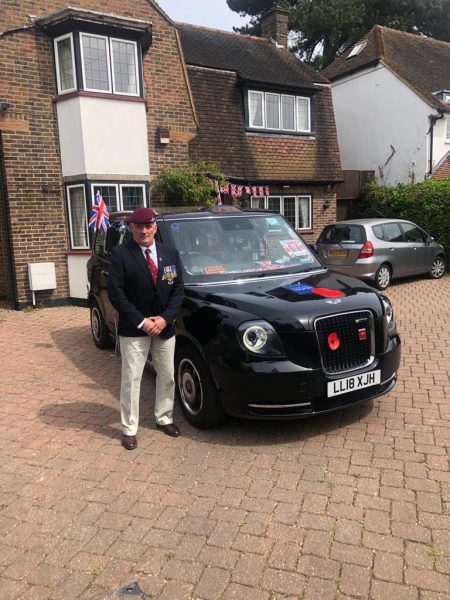 Dennis Hayes, London Cabbie,  said,
"I had an amazing career in the Parachute Regiment between 1977-2003 as both a Regular and a Reservist and saw active service in Northern Ireland, Kosovo and Iraq, completing three tours with 1 Para and three tours with The Pathfinder Platoon. While in the elite force Pathfinder Unit, I learnt the special skills of halo (military freefall) which led me to join the Red Devils Parachute Team."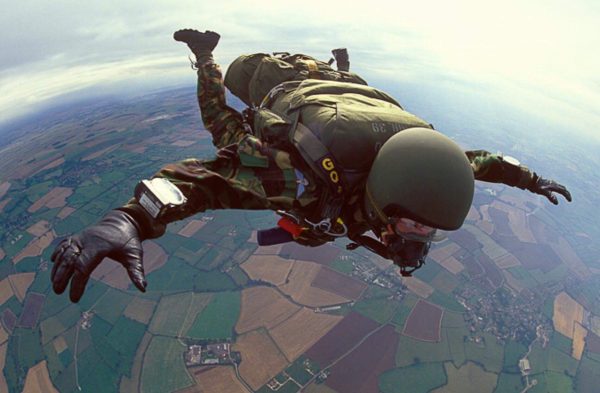 Dennis was very honoured to be part of the Red Devils Competition Team and in his final tour with them was promoted to Team Display Leader.  Dennis travelled all over the world with them doing demonstrations and competitions, including competing in the Nationals where the team performed well enough to go to the World Championships in 1991, representing Great Britain, in former Czechoslovakia and finishing in the top ten.
Dennis continued,
"In 1987 during my first tour with the Red Devils, I jumped out of a Chinook into Greenwich to represent the army and met Her Majesty the Queen. In the 90's I parachuted into Wembley, in full England Kit carrying the match ball before an England V Georgia game and had a penalty shootout against my childhood hero, Chelsea and England goalkeeper Peter Bonnetti."
In 2013, when Denis was a Yellow Badge, he picked up a Chelsea Pensioner from the Putney Rank who was wearing a Parachute Regiment staple belt which signified he had been in the Paras. Dennis asked which Battalion he had been in and he had been in 1 Para, the same unit as him.  At the end of their long conversation the Chelsea Pensioner  suggested that Dennis find out about The Taxi Charity and liking what he heard he became one of their regular drivers, volunteering for charity events across the UK and in The Netherlands and France.
Dennis said,
"With my military background it was great to be part of The Taxi Charity family, and I was delighted when just a year later in 2014, I was asked to join the committee and some six years later I'm still helping them to support veterans."
Every year Dennis plans a fundraising Golf Day at Cuddington Golf Club in Surrey to raise much needed money for the Taxi Charity and in the last three years has raised an amazing £40,000. This year, the charity had to cancel the fundraising day due to Coronavirus, but Dennis is already planning for next summer's event.
Dick Goodwin, Vice President, Taxi Charity for Military Veterans said,
"The success of the Taxi Charity relies on the goodwill of our volunteer cabbies like Dennis. The fundraising golf days he organises have raised an incredible amount of money which helps towards the costs of taking veterans to WWII commemoration events throughout Europe."
If you are able to help the Taxi Charity by donating please visit www.taxicharity.org