While the term Navy-Strength gin* may only be as traditional as a 1990s' marketing campaign, rather than steeped in Royal Navy lore, there is a strong connection between "mother's ruin" and the Senior Service – and it is bang up to date.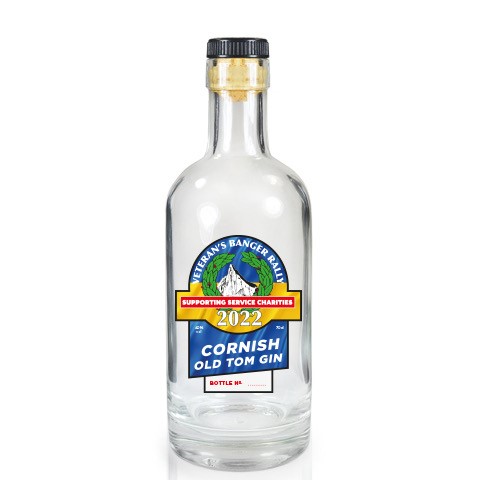 The Veterans' Banger Rally to Gibraltar in aid of SSAFA, the Armed Forces charity sets sail from Dover to Calais on September 13, but across in Torpoint, Cornwall a handcrafted, limited-edition batch of an Old Tom Gin† is being specially distilled for the rally with profits going to SSAFA.
The distiller of this rather explosive liquid is, appropriately, RN Chief Gunner Craig Brook-Hewitt, recently of HMS Portland and soon to retire after 21 years' service, and owner of Mother's Ruin 1751.
Craig explains, saying:
"I founded Mother's Ruin 1751 in July 2018 with my father Ken, who worked for 20 years in the brewing and distilling business, and is now our product developer and business partner. My passion for gin led me to setting my sights on creating my very own gin, and with knowledge and experience under my belt, over time my Cornish Blue Flamingo gin was born."
He first heard about the Veterans' Banger Rally last year; the 2021 event was set for the Continent, but Covid scuppered those plans. He and rally organiser – an RN veteran – John McGowan got in touch with each other, and plans were hatched to make a bespoke gin in honour of the rally.
Craig said:
"We all know the great work SSAFA does up and down the country and overseas for serving personnel, veterans, and their families, and so I wanted to do my bit to help John and the others taking part in the Veterans' Banger Rally with their drive to raise funds for the charity."
Organiser John added:
"It's a big BZ to Craig and all at Mother's Ruin 1751 for their support they're giving to the rally; their help with this unique drink will – like this gin – go down a treat."
The Veterans' Banger Rally Gin from Mother's Ruin 1751 is available for pre-order now with deliveries from May 22. Just 250 bottles will be produced with prices from £40 for bottles 1 to 25, and £32 for numbers 26 to 250.
For more information, visit ssafa.org.uk.
Notes
From Craig: *Navy Strength was actually made at 57.5% proof so if any barrels did split the gunpowder would still light as anything lower than this then it wouldn't work. Also, to ensure the sailors were getting the correct %, they used to check by soaking the gunpowder in the liquid and igniting it.
†An Old Tom Gin is slightly sweeter than a Dry London Gin.
The handcrafted Veterans' Banger Rally Gin is described as being "… rich with honey and vanilla flavours, lead into notes of nutmeg, cinnamon, allspice, and clove adding a warming spice".