Mark Elward, who lives in Worcester, scaled Mount Kilimanjaro in aid of Turn to Starboard, a sailing charity helping Armed Forces personnel affected by military operations.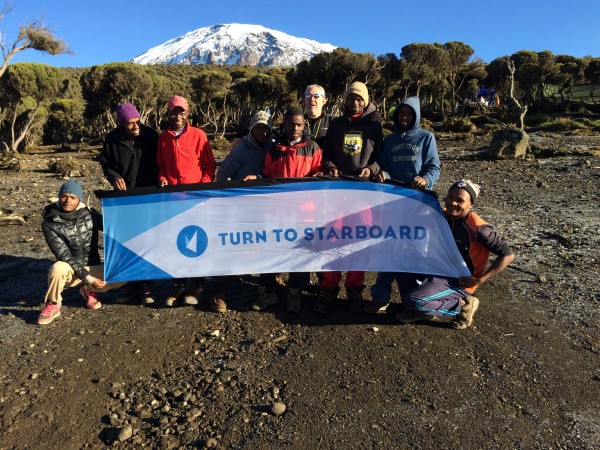 The challenge saw Mark and two friends climb almost 6,000m high to reach the top of the mountain at Kilimanjaro National Park in Tanzania. He was inspired to trek to the summit in aid of the charity as part of his ongoing support to help injured veterans.
Turn to Starboard use sail training to support injured veterans and has helped many start new careers in the marine industry. The charity, based at Falmouth in Cornwall, was set up four years ago and believes sailing has a therapeutic effect on veterans and has provided almost 2,000 sailing opportunities.
Mark and his group trained for over a year to prepare to reach the summit, by trekking at the Brecon Beacons in Wales, and finally set off for their adventure on October 21.
And for the 52-year-old, having the opportunity to climb to one of the world's most iconic volcanoes, is a bucket list dream come true.
"The idea of Kilimanjaro has been on my bucket list for a few years now and last year myself and a group of friends decided to set a date and start training. Turn to Starboard was the chosen charity because of the great work that they do and I totally get the therapeutic effect that sailing can have, being on the vast ocean with nothing around you is a great way to clear your mind and the positive impact that the charity is having on veterans and their families is inspiring.
"To climb the mountain we chose the Lemosho Route which takes eight days and gives you the best chance to acclimatize, with an 88% chance of reaching the summit. For the first few days, unlike the rest of my party, I didn't suffer any real effects of altitude sickness, that was until the day we climbed to the summit.
"Leaving our tents at midnight and after a seven hour trek to the top, my symptoms became quite severe with vomiting, nausea, headache and hallucinations, it was clear it was time to get down the mountain quite quickly!  
"After a rapid descent I soon started to feel better and we got to the hotel the next day for a well-deserved hot shower and a cold beer. The highlight was without doubt the views from the top and the most challenging part was the last day at the hotel where I went down with chronic food poisoning!"
Mark, who works as Commercial Director at Whistl Fulfilment at Farnborough in Hampshire, raised £1,102 for the charity on the expedition.