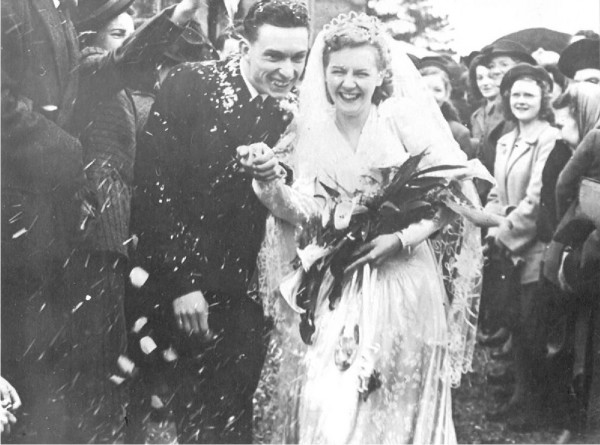 An Aldershot blind veteran, who has been supported by Blind Veterans UK since losing his sight, will celebrate his 70th wedding anniversary this Valentine's Day. Lewis Trinder, 93, married his wife Vera, 90, on 14 February 1948.
Lewis says: "We met when we were both quite young, but I always knew I wanted to marry her. Our relationship survived the war and our marriage has survived seventy years, so we must be doing something right!"
The couple met when they were teenagers living in Haywards Heath. Soon after Lewis was deployed overseas.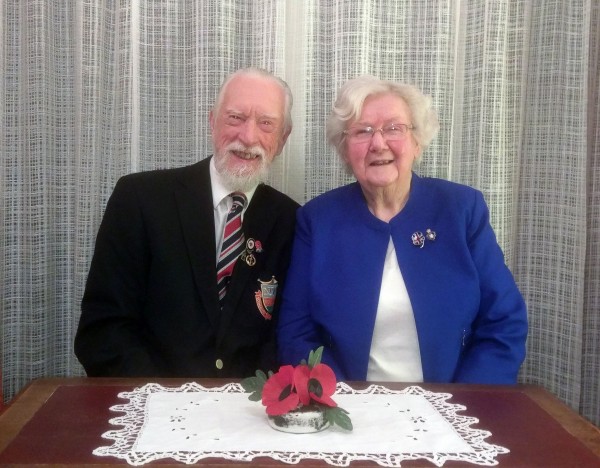 Vera explains: "I was from Lewisham, but my family was bombed out during the War. I ended up going to school in Haywards Heath and Lewis and I attended the same church. One night we all went to a Valentine's school dance and Lewis and I ended up drifting together."
The couple began courting, but on Lewis' 18th birthday in 1942 he volunteered for the Royal Navy. Lewis qualified as a Seaman on HMS Collingwood and then served on HMS Fleetwood, which was deployed on convoys to Sierra Leone. Lewis also served on HMS Magpie during the D-Day landings, as well as Artic and Atlantic convoys, before joining HMS Opossum, a sloop in the Far East in 1945.
Lewis says: "We wrote to each other almost every day while I was deployed overseas. Vera kept every single letter and we still have them now.
"During the War you never knew if you'd be coming back. Some men left sealed letters for their sweethearts, but I gave Vera a signet ring engraved with my name so that she'd always remember me."
Lewis did come back from the Far East and was eventually discharged from the Navy in 1946. He and Vera married in St Wilfrid's Church, Haywards Heath, and spent their honeymoon in London at the Cumberland Hotel. Lewis moved into the pub industry and the pair settled in Aldershot, going on to have three sons and seven grandchildren.
It was decades later that Lewis began to lose his sight due to age-related macular degeneration (AMD) and now Lewis only has very limited peripheral vision. Fortunately, Lewis found out about the support of Blind Veterans UK and joined the charity in 2012.
Lewis says: "I have a quality of life that I'd have never achieved without Blind Veterans UK. The charity has been so generous, providing me with equipment like a talking watch and an electronic magnifier which helps me read my newspapers and letters.
"I've also attended lots of charity events, including the Blind Veterans UK garden at the RHS Hampton Court Palace Flower Show. The support overall has been absolutely fantastic. I couldn't praise one organisation more."
Vera says: "Blind Veterans UK has been very good to Lewis. He's been given all sorts of gadgets to help him out at home and he continues to live life to the full despite his sight loss. It's a wonderful charity."
Lewis and Vera will be spending their wedding anniversary this Valentine's Day with family and friends, who are throwing a party for the couple.
As to the secret of their long and happy marriage, Lewis says: "The truth is that we never agree on anything. But we always agree to disagree. A marriage is a partnership and it's all about compromise."
Blind Veterans UK is the national charity for blind and vision-impaired ex-Service men and women, providing vital practical and emotional support to help veterans discover life beyond sight loss.
Blind Veterans UK estimates that there are 55,000 ex-Service men and women in the UK battling severe sight loss who could be eligible for the charity's support but who do not realise it. It doesn't matter when or how a veteran lost their sight, or when they served, Blind Veterans UK can help.
If you, or someone you know, served in the Armed Forces or did National Service and is now battling severe sight loss, find out how Blind Veterans UK could help by calling 0800 389 7979 or visiting blindveterans.org.uk
ENDS
For all media enquiries please contact: Ruth Moore, Communications and Marketing Assistant, Blind Veterans UK, 12 – 14 Harcourt Street, London W1H 4HD, E: ruth.moore@blindveterans.org.uk, T: 020 7616 7955
Notes to Editor
Blind Veterans UK
Blind Veterans UK is a national charity that believes that no-one who has served our country should have to battle blindness alone. It provides blind and vision-impaired ex-Service men and women with lifelong support including welfare support, rehabilitation, training, residential and respite care.
Find out more at: www.blindveterans.org.uk, and follow us on Facebook at: facebook.com/blindveteransuk and on Twitter at: twitter.com/blindveterans.