On Thursday 12 September, a special charity golf day was held at Ham Manor Golf Club by Worthing-based charity, Care for Veterans.
The charity celebrates its centenary this year, and the Golf Day was one of a number of events being held throughout the year to mark the very special occasion.
Seventeen teams enjoyed coffee and bacon rolls on arrival, and then teed off for 18 holes of golf on the spectacular Harry Colt designed course. A two course meal in the historic manor house followed, and players received prizes and took part in an auction, undertaken by the talented Rupert Toovey of Toovey's, to help raise more vital funds for the charity.
Care for Veterans' Head of Fundraising and Marketing, Elizabeth Baxter, said,
"We are extremely grateful to Ham Manor Golf Club for hosting this centenary Golf Day so superbly and to all the teams who took part. The magnificent amount of money raised is vital to us so we can continue to provide our first-class and award-winning care to our disabled veterans, many of whom are facing the toughest battle of their lives."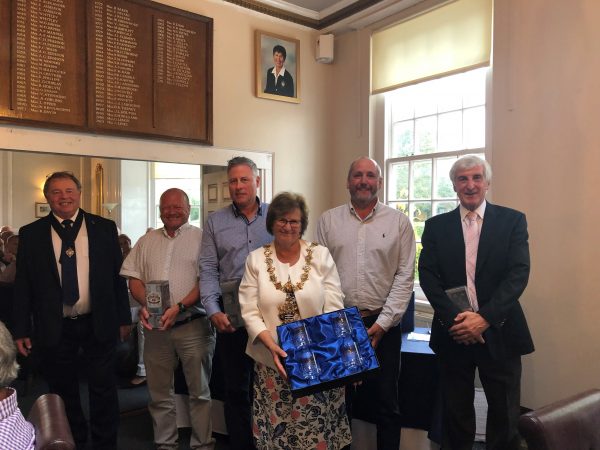 Pictured are the winning team who received their trophy from Cllr Hazel Thorpe, Mayor of Worthing, who attended the event and thanked all the golfers for their kind support for Care for Veterans.
Steve Dillamore, The Captain at the Club said,
"Speaking on behalf of all the members of Ham Manor Golf Club, may I say that we were very proud to host this event and look forward to an even more successful day in 2020."
About Care for Veterans
Care for Veterans (formerly The Queen Alexandra Hospital Home) was established in 1919 – the charity celebrates its centenary this year.
Care for Veterans is a registered charity, providing care and rehabilitation for physically disabled ex-Service personnel and their families. Our residents' needs are complex and many have multiple disabilities. Many have an Acquired Brain Injury and some have neurological disorders such as Parkinson's or Multiple Sclerosis. Others are paralysed or do not have use of their limbs and some are terminally ill. We support on average 140 residents a year.
We care for up to 60 residents at any one time.
Our residents are aged between 34 and 101.
Our residents represent the tri-services: Royal Navy, Army and RAF.
Services at Care for Veterans include nursing, physiotherapy, occupational therapy, speech and language therapy, an active social and recreation department, rehabilitation kitchen, a chaplaincy service, counselling, IT facilities, a rehabilitation garden, sensory room, function room, and regular outings on our specially adapted coach.
With no regular government funding, Care for Veterans must raise over £1.9 million each year to maintain its nursing and rehabilitation services for ex-Servicemen and women.