Leading Armed Forces charity Poppyscotland is backing a campaign to call on the government to take urgent action to address the issue of former UK Armed Forces personnel from Commonwealth countries having to pay large sums of money to stay in the country.
During Service, Commonwealth personnel are exempt from UK immigration controls, but this exemption is removed immediately on discharge. Personnel who leave the Armed Forces after four years of service to the country are eligible to apply for Indefinite Leave to Remain in the UK. But they are compelled to pay visa application fees that have risen by 127 per cent in the last five years from £1,051 to £2,389.
This means that a Service leaver and their partner face a bill of £4,778 to continue to live in the UK, before taking children and further dependents into account. Since the introduction of fees in 2003, fees have increased overall by 1,441 per cent. If veterans cannot pay these fees, or if their application fails, they can face deportation.
Mark Bibbey, the Chief Executive at Poppyscotland, said:
"Commonwealth veterans who  have left their homeland and given years of loyal service, deserve our gratitude and to have the opportunity to remain in the country they have served, without incurring significant financial costs.

"This is a poor way of saying 'thank you' to people we encouraged to leave their countries to come to and serve in the British Armed Forces. Accordingly, we are joining The Royal British Legion in urging the Home Secretary to take action to help Commonwealth military veterans who have served this country loyally and abolish all visa application fees."
Whilst waiting for a decision on their settlement status, former Service personnel are unable to seek employment, unable to claim benefits or register with a GP. Those in need of support then have to rely on charities, including Poppyscotland.
Mr Bibbey continued:
"As well as selflessly serving our nation during their time in the military, Commonwealth veterans make an incredible positive contribution to society when they leave and settle in the UK.  This is something we should therefore encourage."
One such veteran is Jone Tolutinkaono, who came to these shores in 1998 from Fiji and subsequently spent seven years in the Royal Scots; a stint that included tours to Northern Ireland and Iraq. Then, in 2006, he was medically discharged following a serious knee injury.  Having dedicated eight years of Service to the country, Jone wanted to remain in Scotland with wife Karaleani and the couple's four children.
Jone estimates that the visa application fees cost him around £700. This was by no means an insignificant sum, but one that he and his wife were just about able to cover, especially as his four children were not liable for the fee as they were under 18 years of age. However, he cannot believe at what level the costs have now risen. Jone, 48, who lives in Edinburgh, said:
"Where would I have got that kind of money to allow me and my family to remain? I was lucky, but the situation is completely different now. I do not know what I would have done if that had been the level of the fees back when I applied. All veterans should have the right to remain. They have served and protected the country, and many, like me, have come to regard the United Kingdom as home. But now, people are struggling with the costs. I think it's too expensive."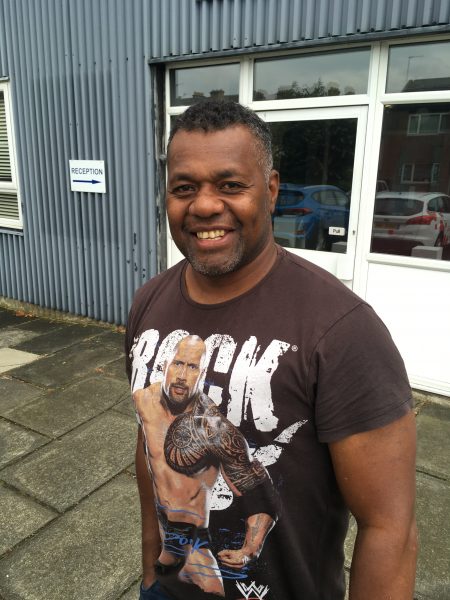 When building his life in Scotland, Jone wanted to find a job that would allow him to support his family and enable him to continue making a positive contribution to his adopted homeland. With some help from Poppyscotland, Jone was able to realise these ambitions and explains:
"I wanted to go on a two-week course to become a 360-excavator driver, but I wasn't sure how to pay for it. A fellow veteran told me that I might be able to get help from Poppyscotland, and, after speaking to them, I was given the funding I needed.  It has made a great difference. Life is good now. I am happy."
Jone has good memories of his time in the Army, as he explains: "I enjoyed it. I served with a lot of other Fijians and I really liked that. I enjoyed going to new places – it was a really good experience. What I enjoyed most was getting away from it all and seeing new and different places – especially Canada, which is a beautiful country."
And now, Jone and his family love life in Scotland:
"The life here is better. It is peaceful and quiet, and the people are friendly and kind. I have even got used to the weather. Scotland has become our second home."
Ends…
Notes to Editors
For further information and all media enquiries, please contact David A. Findlay, PR Manager at Poppyscotland, on 079797 35611, or email at d.findlay@poppyscotland.org.uk.
Visa application fees stand at £2,389 per person, meaning a cost of £4,778 for a former member of the Armed Forces and their partner if they wish to continue to live in the UK. This figure does not take children and further dependents into account. What's more, these fees have risen by 127 per cent in the last five years from £1,051 to the current £2,389 figure.
In 2017, the Army employed approximately 7.1 per cent of its personnel from foreign and Commonwealth nations.  Of these, the majority came from countries in Africa, the Caribbean and Fiji.
Poppyscotland provides life-changing support to the Armed Forces community. Money raised from the Scottish Poppy Appeal and Poppyscotland's year-round fundraising enables them to deliver support to members of the Armed Forces community in Scotland by providing tailored funding and assistance. The charity also funds services in advice, employment, housing, mental health, mobility and respite. Please note that we are known as "Poppyscotland", and not "PoppyScotland" or "Poppy Scotland". For more information, please visit us at: www.poppyscotland.org.uk.