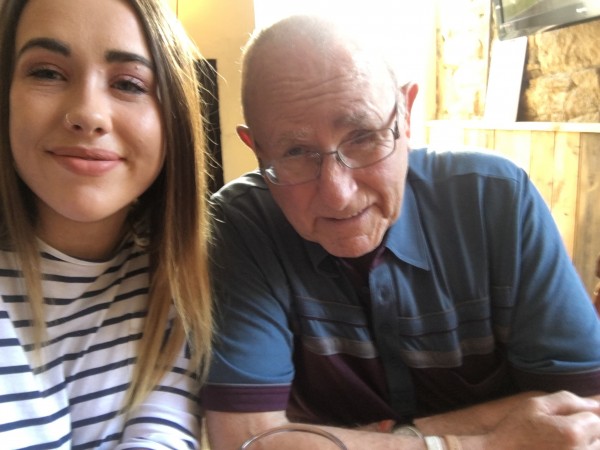 This Grandparents' Day (1 October) Chloë Costello, the granddaughter of a Prudhoe veteran, is urging others with grandparents who served in the Armed Forces and who are now struggling with sight loss to get in touch with Blind Veterans UK.
Chloë, 18, from Corbridge, said: "It was really sad for us when grandad lost his sight because the simple things he used to enjoy, like watching the football or reading the paper, suddenly became a real struggle. But since he found out about Blind Veterans UK he's become so much more confident and learned so many new skills. The other day he even added me on Facebook!"
Ian Henderson, Chloë's grandfather, joined the Army in 1960 for his National Service and served in the Royal Corps of Transport. He spent part of his Service in Germany, before being demobbed in 1962. Years later, in 1976, Ian realised he missed Army life and joined the Royal Electrical and Mechanical Engineers (REME) as a Reserve.
Of his time in the Army Ian, 78, says: "It wasn't necessarily glamorous or heroic, but I was serving my country which gave me a great sense of pride. Looking back I can see that the discipline of life in the Army set me up well for later life."
Ian was diagnosed with glaucoma as a young man and received injection treatments which worked in one eye. Sadly, in the 1980s Ian lost his "good" eye following a work accident at his family timber company. The sight in his remaining eye continued to deteriorate due to glaucoma and cataracts, meaning he now has very minimal vision.
Ian has been supported by Blind Veterans UK since 2016. He has received IT training and a tablet with special software for vision-impaired people to help him keep in touch with his grandchildren. This is invaluable given he has both a grandson and granddaughter who currently serve in the Royal Corps of Signals and are often away from home. Ian has also discovered a new love of art and craft through the charity.
He explains: "I'd always fancied doing something creative but I never had the chance before I lost my sight. The staff at Blind Veterans UK showed me how to make mosaics and gave me the equipment to set up a little workshop at home. I've got eight grandchildren and some of them have also got involved with my art projects. It's something we can all enjoy together."
Ian's family have been so impressed by the support that he has received that his daughter, Lorraine Olver, from Lincoln, recently completed the Great North Run to raise money for Blind Veterans UK.
Of the support her grandad has received Chloë said: "Since joining Blind Veterans UK granddad has had a whole new lease of life. He and my grandma have made friends with other blind veterans, they've spent time way at one of the charity's rehabilitation centres and he's got a new passion for art and craft that he's passed on to us."
She continues: "This Grandparents' Day I'd really encourage others with grandparents who may have served and are now experiencing sight loss to get in touch with Blind Veterans UK, it's a charity that has done so much for us as a family."
Blind Veterans UK is the national charity for blind and vision-impaired ex-Service men and women, providing vital practical and emotional support to help veterans discover life beyond sight loss.
Blind Veterans UK estimates that there are more than 400 ex-Service men and women battling severe sight loss in Northumberland who could be eligible our support but who do not realise it. It doesn't matter when or how a veteran lost their sight, or when they served, Blind Veterans UK can help.
If you, or someone you know, served in the Armed Forces or did National Service and is now battling severe sight loss, find out how Blind Veterans UK could help by calling 0800 389 7979 or visiting blindveterans.org.uk
ENDS
For all media enquiries please contact: Ruth Moore, Communications and Marketing Assistant, Blind Veterans UK, 12 – 14 Harcourt Street, London W1H 4HD, E: ruth.moore@blindveterans.org.uk, T: 020 7616 7955
Notes to Editor
Blind Veterans UK
Blind Veterans UK (formerly St Dunstan's) is a national charity that believes that no-one who has served our country should have to battle blindness alone. It provides blind and vision impaired ex-Service men and women with lifelong support including welfare support, rehabilitation, training, residential and respite care.
The charity needs £100 million over 5 years to provide lifelong support to blind ex-Service men and women. Find out more at: www.blindveterans.org.uk, and follow us on Facebook at: facebook.com/blindveteransuk and on Twitter at: twitter.com/blindveterans.