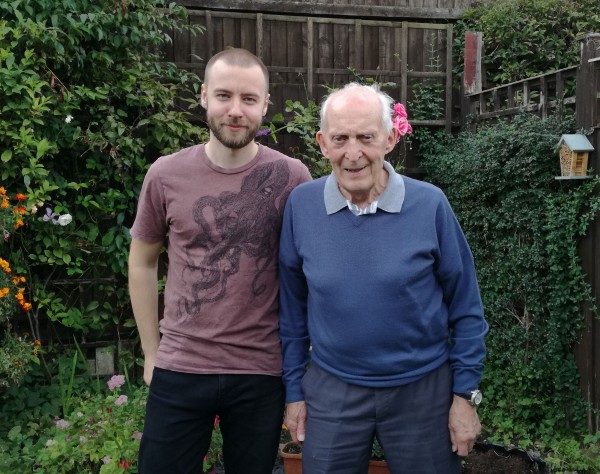 This Grandparent's Day (1 October) Adam Knight, the grandson of a Ruddington RAF veteran, is urging others with grandparents who served in the Armed Forces and who are now struggling with sight loss to get in touch with Blind Veterans UK.
Adam, 27, from the Hockley area of Nottingham, said: "We're really close as a family and it was difficult seeing my grandad battle sight loss, particularly as he's a man who values his independence. But since joining Blind Veterans UK, he's learned new skills, made friends and received equipment and training to help him live life to the full. The support has been amazing."
Peter Knight, 91, was called up for National Service in 1946 and joined the RAF, serving as an electrical engineer after completing his training at Padgate. He was then stationed all over the UK, where he was responsible for ensuring that aircrafts were well-maintained so that pilots could fly safely.
Peter says: "I'd always had an inkling I'd like to join the RAF, and it didn't disappoint. We worked hard but we also had a lot of fun, and the camaraderie is something I still miss."
He continues: "I remember fondly a time that a Polish squadron came to visit one of our bases. One of the pilots bet that I couldn't stomach doing a loop-the-loop in a Tiger Moth but I proved him wrong!"
After completing his Service, Peter went on to work at the Tew group as an electrical engineer. Decades later he lost his sight due to age-related macular degeneration, and was referred to Blind Veterans UK by his local hospital.
Since joining Blind Veterans UK Peter has taken cookery and IT courses at one of the charity's rehabilitation centres, enjoyed getting to know other blind veterans in his local area, and been given equipment such as a mobile phone with voice command to help him keep in touch with friends and family.
Peter said: "The support from Blind Veterans UK has been immense, and even small pieces of equipment like an electronic magnifier mean that I can now read my post and write Christmas cards without having to ask for help. It's these little things have really made such a difference to me and my family."
Adam has been so impressed by the support his grandad has received that this summer he completed the Blind Veterans UK 100K Yorkshire ultra-challenge, trekking 100km over 24 hours and raising nearly £800 for the charity.
Adam said: "My grandad is an amazing person and to be able to support a charity that has done so much for him means a lot. This Grandparent's Day I'd really urge others with loved ones who may have served and are now struggling with sight loss to get in touch with Blind Veterans UK."
Blind Veterans UK is the national charity for blind and vision-impaired ex-Service men and women, providing vital practical and emotional support to help veterans discover life beyond sight loss.
Blind Veterans UK estimates that there are currently more than 850 blind veterans in Nottinghamshire that would be eligible to access its specialist support, most of whom are not currently aware of it.
If you, or someone you know, served in the Armed Forces or did National Service and is now battling severe sight loss, find out how Blind Veterans UK could help by calling 0800 389 7979 or visiting blindveterans.org.uk
ENDS
For all media enquiries please contact: Ruth Moore, Communications and Marketing Assistant, Blind Veterans UK, 12 – 14 Harcourt Street, London W1H 4HD, E: ruth.moore@blindveterans.org.uk, T: 020 7616 7955
Notes to Editor
Blind Veterans UK
Blind Veterans UK (formerly St Dunstan's) is a national charity that believes that no-one who has served our country should have to battle blindness alone. It provides blind and vision impaired ex-Service men and women with lifelong support including welfare support, rehabilitation, training, residential and respite care.
The charity needs £100 million over 5 years to provide lifelong support to blind ex-Service men and women. Find out more at: www.blindveterans.org.uk, and follow us on Facebook at: facebook.com/blindveteransuk and on Twitter at: twitter.com/blindveterans.