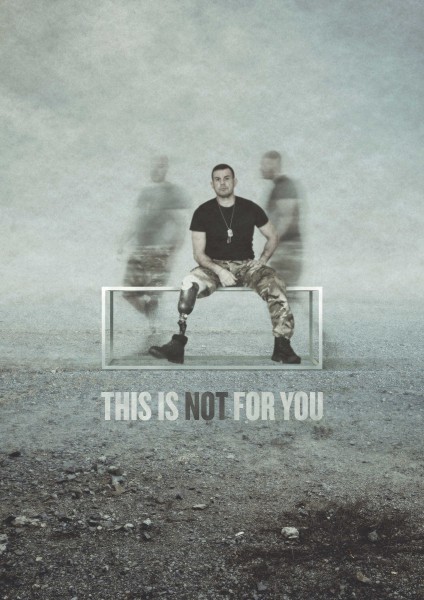 A group of injured veterans are preparing to take part in a series of epic outdoor performances this Summer to mark the centenary of the end of WWI. The piece, entitled This Is Not For You is a Graeae Theatre Production, co-commissioned by military charity Blesma, The Limbless Veterans and 14-18 NOW, supported by Calouste Gulbenkian Foundation (UK Branch), The Drive Project, National Centre for Circus Arts and Arts Council England.
This Is Not For You, part of 14-18 NOW, the UK's arts programme for the First World War centenary, is an epic outdoor performance paying moving tribute to Britain's wounded war veterans, men and women whose contributions to history often go unnoticed. It chronicles veterans' fight for respect and remembrance, told with heft, beauty and wry humour, both on the ground and off it, with audio description and sign language as integral parts of the production. Through snapshots of three Armistice Days, audiences will be taken on a journey that spans 100 years of history; this is a story of past and present sacrifices and a continual fight for respect, rights and remembrance. Through song, movement and physical theatre, the production explores the reality of returning from war that often juxtaposes with the vibrant celebrations of peace.
Jenny Waldman, Director of 14-18 NOW, the UK's arts programme for the First World War centenary, said: 'This powerful work by Graeae and Blesma puts the experiences and performance of disabled veterans centre stage. At the end of the First World War, almost one million British combatants had died, but a further two million returned home with some level of permanent disability. We are proud to commission This is Not For You as a highlight of our final 14-18 NOW season, in which we continue to engage people in the centenary of the First World War through the lens of art.'
The production, directed by Jenny Sealey, written by Mike Kenny and performed by Members of Blesma, The Limbless Veterans, will be premiering in Woolwich as part of the Greenwich+Docklands International Festival on Armed Forces Day (June 30th) and Sunday 1st July, alongside performances in Woolwich and Stockton on Thursday 2nd August and Friday 3rd August.
Among the Blesma cast performing are amputees, wheelchair users, and those who have visual impairments and brain injuries. Some have lost limbs to IED blasts, while others have been devastated by accidents. The injured veterans have been especially trained for the piece by Graeae, (pronounced grey eye), the UK's flagship theatre company for D/deaf and disabled artists and the National Centre for Circus Arts.
Jenny Sealey, Graeae's Artistic Director, who co-directed the London Paralympic Games opening ceremony says: 'I look for performers who have a strength, a maverick sense, and the willingness to take a risk. These skills can help in a very interesting way in terms of their long-term rehabilitation. Blesma's performers have a drive, resilience, and a beautiful vulnerability. The guys I've talked to wear their hearts on their sleeves and are very emotionally literate.'
'Graeae's vision is to fight the inequality and the lack of visibility of D/deaf and disabled people in theatre. We want to push the boundaries into the arts in general. It's about putting D/deaf and disabled people centre stage. After injury, there are many barriers to break through to feel like a person again, and that's why organisations like Blesma are so important.'
Performer and Blesma Member Carole King, who had her leg amputated in 2006, says: 'To be back in a troop of like-minded people, to grow and see where we started and to where we will end we will give me back the confidence that I have lacked over that last 2 years. I can't sit back anymore and what a way to say, "hey I'm back and raring to go."
Blesma's Operations Director, Ian Waller says: "In the immediate aftermath of World War I, returning soldiers who had suffered life changing injuries banded together to help each other. Wounded soldiers drew upon the spirit of camaraderie which had helped them survive the appalling conditions, extreme danger and trauma of four years of trench warfare. 100 years on it is Blesma's duty to honour the lives lost as well as the survivors, and to carry the message forward for future generations."
Jenny hopes that audiences will come away with a new perspective on what it means to be a soldier: 'The show will demonstrate the extraordinariness of the human spirit, and it ends with quite a euphoric moment, with our actors saying; "Look at us."
Blesma, The Limbless Veterans is the national charity for all limbless service men and women, their widows and dependants. It was formed in the years following the First World War and became a national charity in 1932.
See the show…
Greenwich+Docklands International Festival
Saturday 30 June & Sunday 1 July
3pm & 7.30pm (both days)
Artillery Square, Royal Arsenal Riverside, Woolwich, London SE18 4DX
Kindly supported by Berkeley Home
Stockton International Riverside Festival
Thursday 2 August 8.30pm &
Friday 3 August 2.30pm & 7.30pm
Stockton High Street, Stockton-on-Tees
All performances are free to attend and are fully accessible, with creative British Sign Language and audio description.
Running time 1 hour (approx.)
Suitable for all ages.
www.tinfy.org
twitter hashtag:  #TINFY @graeae
Notes to Editor
Hi-res images can be downloaded from the links below:
Former infantryman Kirk Bowett, who served with the Mercian Regiment and lost his left arm below the elbow whilst conducting security duties in Iraq in 2013, during an aerial training session:    
About Blesma, The Limbless Veterans
Blesma, The Limbless Veterans is the national charity for all limbless serving and ex-service men and women, their widows and dependants.  It is a membership organisation which helps wounded service men and women rebuild their lives by providing rehabilitation activities and welfare support. Their membership includes those who have lost the use of a limb, an eye or the sight of an eye.
Blesma was formed in the years following the First World War and became a national charity in 1932.  Blesma today has over 4000 Members and widows. The membership consists of men and women who have served during the Second World War and the many subsequent conflicts and peacekeeping operations since, including the Falklands, Northern Ireland, Iraq and Afghanistan.
Follow us on Twitter and Instagram @Blesma and Facebook /Blesma
For further information on Blesma, The Limbless Veterans, contact:
Lorna Dorrell, Communications Manager
E: commsmgr@blesma.org
T: 020 3954 3023
W: www.blesma.org
Graeae is a force for change in world-class theatre – breaking down barriers, challenging preconceptions and boldly placing D/deaf and disabled artists centre stage. Artistically led by Jenny Sealey, Graeae's signature characteristic is the compelling creative integration of sign language and audio description, which engages brilliantly with both disabled and non-disabled audiences. Championing accessibility and providing a platform for new generations of artists, Graeae leads the way in pioneering, trail-blazing theatre. Graeae won the Promotion of Diversity Award at the TMA Theatre Awards UK 2012.
Richard Matthews 
Head of Marketing & Development
Graeae Theatre Company
020 7613 6906
14-18 NOW is a programme of extraordinary arts experiences connecting people with the First World War, as part of the UK's official centenary commemorations. It commissions new work by leading contemporary artists across all art forms; the programme has included over 200 artists from 35 countries, with commissions taking place in 160 locations across the UK. Over 30 million people have experienced a project so far, including 7.5 million children and young people. 16.7million people took part in LIGHTS OUT in 2014, and 63% of the population were aware of Jeremy Deller's 2016 work 'We're here because we're here'. The UK tour of the iconic poppy sculptures by artist Paul Cummins and designer Tom Piper have been seen by over 3.5 million people to date. 14-18 NOW has won many awards for its work, including the National Lottery Heritage Award 2017, a Museums Heritage Award and the Chairman's Award at The Drum Social Buzz Awards 2016.  It is supported by the National Lottery through the Heritage Lottery Fund and Arts Council England, by the Department for Digital, Culture, Media and Sport, and by additional fundraising. www.1418now.org.uk
Greenwich+Docklands International Festival (GDIF) was founded in 1996 and is London's leading festival of free outdoor theatre and performing arts, making an "unrivalled contribution to the happiness of the people of London" (The Guardian).
GDIF 2017 featured over 300 performances by dozens of national and international companies with more than 105,000 people attending shows in a range of public spaces in Royal Greenwich and East London. GDIF 2018 forms part of the Royal Greenwich Festivals, an annual series of high-quality events organised by the Royal Borough of Greenwich to celebrate cultural vibrancy. GDIF 2018 is supported by Arts Council England, Royal Borough of Greenwich, Tower Hamlets Council, Without Walls, Canary Wharf Arts + Events and Peabody. GDIF is produced by FESTIVAL.ORG. www.festival.org