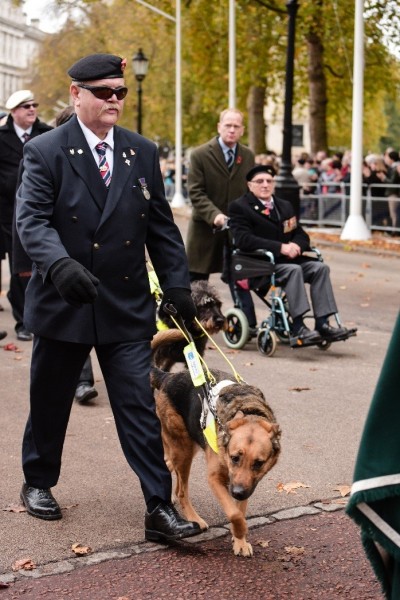 A blind veteran from Guildford is set to tackle the 100 kilometre ultra-challenge for Blind Veterans UK, the national charity for vision-impaired ex-Service men and women.
Jeff Stockwell, 61, is gearing up to take on the walk, which starts in London and finishes in Brighton, for the second time, having attempted it for the first time last year.
Unfortunately for Jeff, an accident involving a careless cyclist meant he was unable to finish the course. He says: "I was about 20k outside of London when a cyclist crashed into me, hurting my hip. I carried on for as long as I could but at 50 miles I had to stop on the advice of the medics. I was gutted but it's given me extra motivation to complete it this year."
Jeff, who enlisted in the Army Catering Corps in 1972, worked as a chef in the officer's mess. He served in Belize, Canada, Cyprus, England, Germany and Northern Ireland, before leaving the Forces in 1986 to work with terminally ill children. Unfortunately, Jeff ended up in intensive care over Christmas 2004 after being struck down with salmonella. The illness would cost him his sight in one eye, before later losing the central vision in his other, thereby rendering him unable to complete a number of day-to-day tasks, one of which being driving.
Of one of the most difficult times of his life, he says: "I lost my car. I had just bought a campervan, I lost that too, and went into a downward spiral, feeling depressed and suicidal."
Two years ago, in 2015, Jeff started to receive support from Blind Veterans UK. He has gone on to attend art classes at the Brighton Centre and went to a woodturning course last year. He has also been provided with a CCTV magnifier that has allowed him to carry on his art projects at home. Of the difference Blind Veterans UK has made to his life, he says: "The care they've given me is phenomenal. It's brilliant."
Jeff will be hoping that the challenge will help him maintain and continue the exceptionally active and healthy lifestyle he's regained following his sight loss. After initially losing his fitness and reaching 23 stone, Jeff was able to lose an incredible seven stone thanks to the support of Blind Veterans UK and his participation in a number of events, including the Great South Run and the 100k London to Brighton walk.
He says, "A massive part of Blind Veterans UK is about is challenging yourself to experience life beyond sight loss. I wanted to get myself as fit as I used to be, so I decided to motivate myself by walking 100 kilometres."
Registration for the 100k, which will kick off in Fulham on Saturday 1 July, is currently open with a registration fee of £62.50 for the 100k. For those not wanting to walk the full distance there is also a relay option available for teams of four walking 25k each. Teams taking part in the relay have a registration fee of £110. The all-inclusive entrance fee for participants includes lunch, dinner and breakfast at three rest stops, snacks and refreshments along the route and a free event t-shirt.
The London to Brighton 100k challenge is Blind Veterans UK's biggest annual fundraiser and takes participants from a starting point in south west London, along the banks of the Thames, through countryside paths in Surrey, Sussex and the North and South Downs to the charity's centre in Ovingdean, Brighton.
To donate, please visit: https://www.justgiving.com/fundraising/JeffStockwell100k.
To sign up for the Blind Veterans UK 100k, please visit www.blindveterans.org.uk/100k.
For all media enquiries please contact: Felix Arbenz-Caines, PR Assistant, Blind Veterans UK, 12 – 14 Harcourt Street, London, W1H 4HD, E: Felix.Arbenz-Caines@blindveterans.org.uk, T: 020 7616 7941
Notes to Editor
Blind Veterans UK
Blind Veterans UK (formerly St Dunstan's) is a national charity that believes that no-one who has served our country should have to battle blindness alone. It provides blind and vision impaired ex-Service men and women with lifelong support including welfare support, rehabilitation, training, residential and respite care.
The charity needs £100 million over 5 years to provide lifelong support to blind ex-Service men and women. Find out more at: www.blindveterans.org.uk, and follow us on Facebook at: www.facebook.com/blindveteransuk and on Twitter at: twitter.com/blindveterans.