A Hampshire British Army veteran who lost his right eye while serving in Kosovo, will be taking part in this year's London Marathon to raise funds for Blind Veterans UK, the national charity for vision-impaired ex-Service men and women.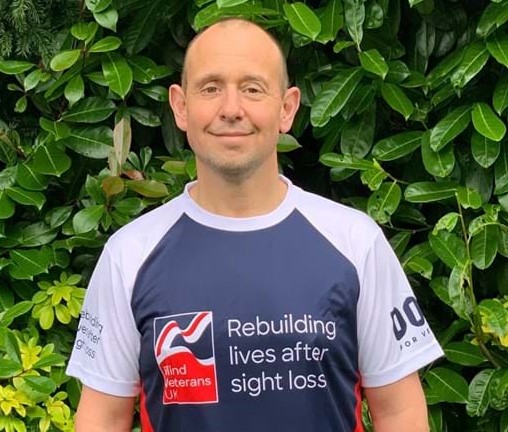 Justin Rookes, who is 51, served in the Royal Electrical and Mechanical Engineers (REME) for 25 years before he suffered a serious injury while serving in Kosovo and was medically discharged in 2013 when he held the rank of Captain.
He says:
"I lost my right eye while deployed and now have a prosthetic eye.

"All of a sudden everything I had planned for my life had changed, the Army is a bit like a comfort blanket, in terms of lifestyle. When you leave, that is all lost very suddenly.

"You also lose the camaraderie and suffering a serious injury like I did can really pull that blanket away from you.

"However, I am grateful for what I have. I was born with two eyes and I still have one. I focus on what I can do, not on what I can't.

"I used to play squash four to five times a week, it was part of my identity. I have tried to play again but it is such a fast game and I'm unable to get my hand-eye coordination right. But in line with focussing on what I can still do, I've been able to continue with running."
Justin will be taking part in the London Marathon on October 2 and will be running in support of Blind Veterans UK.
"About eight years ago I met blind veteran Simon Brown, who also served in the REME, at a military charity dinner. Through him I learnt about the support that Blind Veterans UK can provide and the difference they make.

"This will be my first marathon and I want to do it for a charity which means something to me. I want to be able to support those less fortunate than myself and running for Blind Veterans UK is the perfect fit.

"There's no better motivation than knowing every penny raised will go towards enabling Blind Veterans UK to support even more ex-Service men and women, providing them with vital training and rehabilitation.

"The charity makes a real difference to those who need to adapt and discover a new life beyond sight loss.

"I plan to run the London Marathon with pride in my heart and a smile on my face representing this fantastic charity."
To support Justin taking part in the London Marathon, please visit his JustGiving page here: justgiving/fundraising/justin-rookes
To follow in Justin's footsteps and support Blind Veterans UK, sign up to the London Marathon here: blindveterans.org.uk/londonmarathon 
Blind Veterans UK supports thousands of blind veterans across the country, but knows there are up to 50,000 more who still need its support to rebuild their lives after sight loss.
If you, or someone you know, served in the Armed Forces, including National Service, and are now struggling with sight loss, then please get in touch. Call 0800 389 7979 or visit blindveterans.org.uk/support