A singer-songwriter who is himself blind has written and recorded a song in memory of a blind veteran friend who passed away.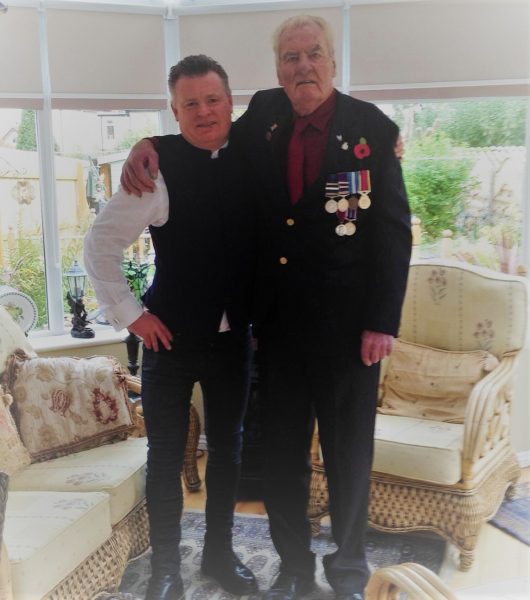 Robby Toner, 52 and from Hereford, recorded the song as a tribute to his friend Ben Bingham after he died in July 2018.
The song "Reverie" and accompanying music video has been released and Robby is encouraging those who listen and enjoy it to support Blind Veterans UK, a charity that cared for Benny in his last years.
Robby says:
"The song has become a tribute to Benny but it's also for all veterans and people we've lost. Benny and I used to watch the Remembrance Sunday service on TV together every year and he would often say 'how are people going to remember when all of us are gone?' and I said that we should write a Reverie.

"I started writing it while Benny was still alive and would play him bits as they came together, he loved it. But the song has only got to where it is now because of Benny. He left me some money which I decided to put towards recording it properly and making the video. It's now out there as a proper tribute to him."
Ben was born in 1935 and enlisted into the Royal Army Service Corps in 1954 and transferred to 22 SAS in 1965. He served in Malaya, Singapore, Cyprus and France and was discharged as a Corporal in 1968. After leaving the Army he started his own business as a builder in Hereford.
Many years later Ben lost his sight due to age-related macular degeneration and, because of his service, he started receiving support from Blind Veterans UK.
Robby says:
"The charity was really there for him when he needed support so that's why I want to do my bit to raise money for Blind Veterans UK. Hopefully people will hear the song and watch the video and support this great cause."
Robby, who sings with bands The Timebandits and Troubadores, started his career in music in 1986. He was diagnosed with a hereditary eye condition called Retinitis Pigmentosa when he was 18 and over the last 20 years has gone from having perfect vision to no sight at all.
Robby and Benny first met in Hereford over 20 years ago. Robby adds:
"Benny was an awful comedian but he loved to tell jokes and we hit it off straight away.

"He would often say to me that his fear was being forgotten. Well hopefully this song will mean that doesn't happen."
As well as releasing Reverie, Robby and his big band will also be performing an online concert on Armistice Day which more than 20 groups of blind veterans will be able to listen to after a virtual Service of Remembrance with the charity.
Robby says:
"After this first concert we'll be streaming one live every month so blind veterans, and anyone else who wants to, can listen, watch and support the charity."
Blind Veterans UK was founded more than 100 years ago to support those blinded in the First World War. Now, the charity supports veterans regardless of when they served or how they lost their sight. Throughout the pandemic the charity has supported veterans, particularly those who are most vulnerable; whether they need food delivered, medication from their pharmacy or a friendly voice over the phone.
Chief Executive of Blind Veterans UK, Major General (Rtd) Nick Caplin CB says:
"The concert that Robby and his big band will be putting on for our veterans to enjoy will be fantastic and it's even more special that he has written a song in tribute to Ben.

"The isolation caused by Covid and experienced by our veterans can be just as harmful as the virus itself. That's why we will be doing all we can to ensure they remain connected to each other and the outside world through the Remembrance period and beyond.

"More than 90% of the blind veterans we support are over 70 and so most at risk from COVID-19."
Visit blindveterans.org.uk/reverie to hear the song and learn more about the charity and how you can support its vital work today.