Help for Heroes is proud to support the British Armed Forces and celebrated Armed Forces Day, not only at events up and down the UK, but by taking our support further afield to the USA. Team UK, supported and delivered by Help for Heroes, took part in the Department of Defense (DoD) Warrior Games in Tampa Bay, Florida from 21 to 30 June.
Approximately 400 competitors representing teams from the Army, Marine Corps, Navy, Air Force, Coast Guard, U.S. Special Operations Command (SOCOM), United Kingdom Armed Forces, Canadian Forces and the Australian Defence Force took part in the competition.
Andy Allen is just one of 20 wounded, injured and sick military personnel and veterans who were chosen to represent the UK at this year's Warrior Games.
At the age of just 19, Andy was deployed to Afghanistan with the 1st Battalion the Royal Irish Regiment, where he lost both his legs and was partially blinded after stepping on an improvised explosive device.
"A part of me died in Afghanistan that day. I went from being a mobile person to relying on others to help me do everyday tasks. My physical and mental wellbeing were on a downward spiral but Help for Heroes got me back into sport. I applied for the Warrior Games so I could improve my fitness and mental health further. It's been fantastic spending time with the rest of Team UK and seeing the drive, determination and team spirit of others; something I'd lost since leaving the military. Although I've brought home medals, which will be mementos for the rest of my life, it's not all about that. I'll take away much more. The comraderies, the bonds, the friendships. It's given me a sense of purpose again. More importantly though it's given me that drive and determination to get involved with these sports and take it up thereafter."
Team UK took part in fourteen adaptive sports: archery, cycling, time-trial cycling, shooting, sitting volleyball, swimming, track, field, wheelchair basketball, indoor rowing, powerlifting, golf, wheelchair tennis and wheelchair rugby. The latter three sports for the first time in Warrior Games history. Andy brought home 2 silver medals in rowing, a silver in shotput and a silver in discuss.
Martin Colclough, Head of Sports Recovery at Help for Heroes, said:
"Team UK have brought home an impressive haul of 27 medals. It's not all about winning medals though. Throughout the last ten days of the Games we have seen friendships blossom, confidence grow and competitors pushing their body to the limit. The Warrior Games has very much provided our veterans and serving personnel the opportunity to be part of a team again, something the military often miss after suffering a life-changing injury or illness. It's great that this year we have had 3 former competitors join us who have taken coaching qualifications to enable them to support their peers in their recovery journey. Their insight was valuable for the competitors this year; helping to allay any anxieties about what to expect and how best to perform in their chosen sport".
Help for Heroes beneficiaries also helped to design this year's kit. Jaco Van Gass is a GB Paralympic cyclist and self-confessed adventurer. He served in the Parachute Regiment and on his second tour of Afghanistan in 2009 suffered life-changing injuries. A blast from a Rocket Propelled Grenade resulted in shrapnel wounds, blast wounds to his left leg and losing his left arm. Soon after he became involved with Help for Heroes. Andy Perrin is an Invictus Games gold medallist, a Design Technology Teacher and a Help for Heroes Ambassador. He served in the Royals Signals for 12 years with tours in the Falklands, Northern Ireland, Iraq and Afghanistan before being medically discharged.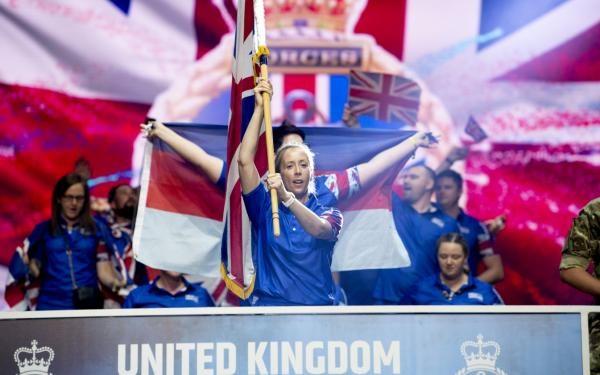 Martin Colclough summarised:
"The Warrior Games team represents just 20 of our wounded heroes; there are thousands more out there that need our support as they rebuild their lives. With seven people a day being medically discharged from the Armed Forces the need is growing. We'd invite anyone who wants to try something new as part of their recovery to get in touch with Help for Heroes. It's not just about competing in sports at an elite level. Through our local Recovery Centres we can offer grass roots activities, such as walking football, and access to nutrition, sleep hygiene and physical activity advice."
The US Warrior Games is about giving wounded, injured and sick serving and veteran personnel the chance to take part in sport, alongside their peers, to show themselves, and the rest of the world, that they can. It is about ability, not disability. Every athlete at the Warrior Games were empowered to compete.
Help for Heroes are proud to be leaders in adaptive sport; supporting over 500 of our wounded to be part of Team UK this summer for the Warrior Games, the Invictus UK Trials in Sheffield and Scotland's Mey Games.