Heroes Vodka now retailing in 350 Asda stores
Largest supermarket listing secured for social enterprise of its kind
Asda Community Capital fund provides £100,000 loan for expansion
Minimum 20% of profits donated to UK Armed Forces' causes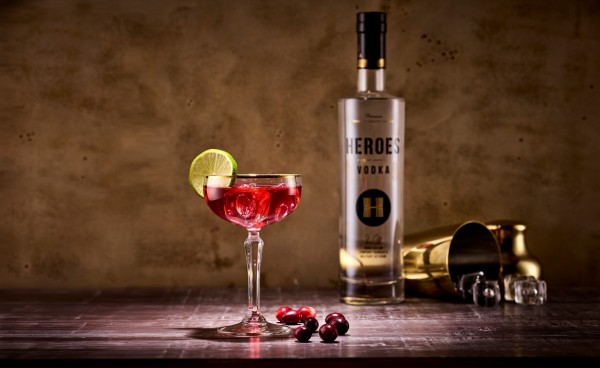 A social enterprise, which supports the armed forces, has secured the largest ever listing of its kind with a national supermarket.
Heroes Drinks Company, a spirit-producing social enterprise, is now stocking its premium British wheat grain vodka in selected Asda stores.
Consumers can be confident that when they purchase Heroes Vodka in one of the 350 stores they will be helping support worthy causes at the same time as Heroes Drink Company is pledging to donate a minimum of 20% of all profits to UK Armed Forces' causes.
Chris Gillan, founder and military veteran, of Heroes Drinks Company, said: "The opportunity afforded to Heroes Drinks by Asda is simply incredible and I am grateful for their overwhelming support.
"The scale of opportunity has enabled Heroes Drinks to launch a super-premium vodka at an incredible price and the significant increase in sales will not only fast-track our ambitions of employing disadvantaged veterans nationwide but also greatly increase our financial support to our partnering charities."
In 2015, Heroes Drinks Company became the first non-profit organisation in the alcohol sector and is founded on the mission of supporting the UK armed forces family and providing work placement programmes for former servicemen and women who have struggled with the transition to civilian life. Having established a relationship with Social Investment Scotland (SIS), the team participated in the first Asda Social Enterprise Supplier Development Academy.
Funded through proceeds of the carrier bag charge, Asda's Social Enterprise Supplier Development Academy was launched in 2016, in partnership with SIS, with the aim of offering guidance to entrepreneurs on working with large retailers, as well as increasing the availability of social enterprise products for ethically-minded consumers, all during a series of workshops across a four day period.
Heroes Drinks also received access to a £100,000 loan from the Asda Community Capital scheme as well as a further £150,000 of finance from SIS, meaning that in just two years, Chris has been able to take Heroes Vodka from creation to a national supermarket listing.
 "As one of the largest national listings of its kind, Heroes Drinks is a fantastic example of the benefits in working together with innovative social enterprises to make ethical and high-quality products more readily available to consumers," added Heather Turnbull, buying manager for Asda.
"Our partnership with SIS is providing tangible results and continues to ensure that money generated by customers through the carrier bag charge is responsibly re-invested in charities such as those committed to supporting the UK armed forces' community."
Alastair Davis, chief executive at Social Investment Scotland, commented: "By promoting social enterprise products as viable alternatives to their commercial counterparts, we have a fantastic opportunity to significantly increase the revenues raised by the sector and, in turn, create much more sustainable and long term income for good causes.
"Asda's partnership with SIS to deliver the UK's first Social Enterprise Supplier Development Academy is helping provide access to organisations like Heroes Drinks Company to the support, advice and investment they need to grow and supply a large retailer. We are looking forward to the second Academy this summer ,which will open for applications soon."
Heroes Drinks Company is the second social enterprise to be listed with the supermarket, following the introduction of Brewgooder in November 2016.
ENDS
For more information contact asdascotland@havas.com or 0131 255 0035 
About Asda Stores Ltd.
Asda has more than 20,000 dedicated colleagues in Scotland serving customers from 61 stores and two depots.  Around 1.9 million customers in Scotland shop with Asda every week.
Founded in the 1960s in Yorkshire, Asda is one of Britain's leading retailers and helps customers save money and live better in stores, online and through their mobile devices.
Each week more than 18 million customers visit its 626 stores – including 32 Supercentres, 336 Superstores, 205 Supermarkets, 33 Asda Living stores, and 20 standalone petrol stations – and websites, and are served by 162,000 colleagues. www.asda.com and www.george.com deliver to 99% of the UK's homes and to its 650 click and collect sites.
Its main office is in Leeds, Yorkshire and its George clothing division is in Lutterworth, Leicestershire. Asda joined Walmart, the world's number one retailer, in 1999.
About Social Investment Scotland
Social Investment Scotland was established in 2001 to provide a new finance model for Scotland's charities and social enterprises. Since then it has invested over £53m in at least 250 organisations across Scotland. Loan finance via Social Investment Scotland is available from £10,000 to £1m and is aimed at community enterprises and social businesses that might find access to finance from mainstream providers difficult.
Social Investment Scotland also helps to manage funds on behalf of third parties with any profits being re-invested into social business development in Scotland. Social Investment Scotland currently manages the largest social enterprise fund in Scotland on behalf of the Scottish Government. The Scottish Investment Fund makes strategic investments in social businesses that can use the funding to upscale and transform the size of their business.
For more information about SIS, visit www.socialinvestmentscotland.com
About Heroes Drinks Company
Heroes Vodka is distilled a minimum of seven times to ensure its purity before being diluted with demineralised Scottish water, resulting in a crystal clear and exceptionally smooth vodka, which has a subtle sweetness.
73% of vodka drinkers would choose to purchase Heroes Vodka over other vodka products (Research conducted by The University of Abertay, 2015).
Heroes Vodka scored 7.65 out of 10 at the World Vodka Awards in 2014.
Heroes Drinks Company pledges a minimum of 20% of its profits to Forces and Veterans Charities, which will soon be published on the website, providing full transparency to its customers.
For more information, please visit: http://www.heroesvodka.co.uk