King's Lynn based charity, Scotty's Little Soldiers, has organised its very first memorial walk, taking place Sunday September 30th at Sandringham Country Park to remember our heroes and to raise funds for children who have lost a parent in the British Armed Forces.
Scotty's Little Soldiers' Hero Walk has been organised to remember those who are no longer with us and is not only aimed at people affiliated with the bereaved Armed Forces children's charity. The walk, which includes both two and three-mile route options, is open to anyone and the Scotty's team is encouraging people to tie their laces tight and join them in memory of either their own personal hero, or in remembrance of those who have lost their lives in the service of their country.
Founded by war widow Nikki Scott in 2010, Scotty's Little Soldiers supports children across the UK who have lost a parent while serving in the British Armed Forces. The charity was set up in memory of Nikki's husband and father to her two children, Corporal Lee Scott, after he was killed in Afghanistan in 2009. Scotty's Little Soldiers was personally selected this year by the Duke and Duchess of Sussex, Harry and Meghan, as one of seven charities to receive donations from the Royal Wedding.
This year's Hero Walk is supported by Morrison's Kings Lynn and the Sandringham Estate. The day will begin with a warm up starting at 10:30am before the walk begins at 11:00am – alongside this there will be a host of games, competitions and a picnic for families to enjoy.
Charity founder, Nikki Scott said: "It's our very first memorial walk and we're hoping that we're joined on the day by people who want to remember someone special to them. We were keen to extend our invitation out so that we're not only remembering our fallen heroes but also other special individuals too, giving people the chance to remember those close to their heart. It will be a day of reflection but also a day to smile and have fun."
To register your place visit: www.scottyslittlesoldiers.co.uk/herowalk
And to learn more about Scotty's Little Soldiers visit: http://scottyslittlesoldiers.co.uk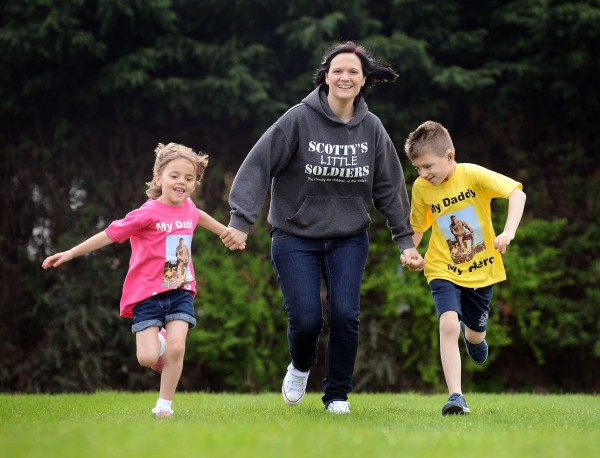 Notes to editors:
To speak to a member of the Scotty's Little Soldiers team, please contact Scotty's national PR agency: Claire Lomax (claire@wolfstarconsultancy.com), Chris Grayson (chrisg@wolfstarconsultancy.com), Fran Wyatt (fran@wolfstarconsultancy.com) or 0113 273 7816.
About Scotty's Little Soldiers:
Scotty's Little Soldiers, founded in 2010, honours Corporal Lee Scott's memory – both as a loyal soldier and a loving father – and provides a practical yet personal way for the public at large to show their appreciation for those brave individuals who make the ultimate sacrifice in the service of their country. Currently Scotty's Little Soldiers supports 345 bereaved children and runs a variety of programmes to help children smile again and look forward to a brighter future. You can visit the charity online at http://www.scottyslittlesoldiers.co.uk/