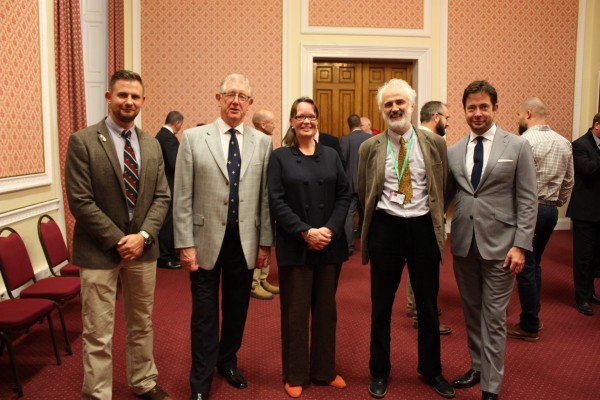 Individuals and businesses from across the South West met this Wednesday for an evening of fundraising to support training and opportunities for returning servicemen and women.
The fundraiser, held at Bicton College in East Budleigh, was aimed at raising awareness and vital funds for HighGround, a charity who provide jobs, careers and vocational opportunities for Service Leavers, Reservists and Veterans in the land-based sector.
Hosted by Bicton College, HighGround runs a series of Rural Weeks throughout the year which provide candidates with seminars and tasters of Rural Careers. HighGround plan to deliver 8 Rural Weeks during 2018 that will support over 80 individuals. With strong Military links across Devon, in particular the Royal Marine base at Lympstone, HighGround's work is particularly relevant to the local community.
HighGround's founder and Director of Development, Anna Baker Cresswell said; "We have had a fantastic first year at Bicton and so many people have contributed to the success of 2017's Rural Week programme during which we welcomed serving personnel and veterans from all 3 services – from a 22 year old private soldier with 4 tours of Afghanistan under his belt to a hugely experienced weapons handler who leaves the RAF in 2018 after 36 years' service – these are all veterans who really want to work, and just need a bit of a leg up to get them going again."
Anna continued: "As others in the land-based sector will confirm, there are skills shortages in many areas including Horticulture, Agriculture and Food Production, and the men and women of our Armed Forces are a precious asset which, especially at this pre-Brexit moment in our country's history, we can ill afford to ignore."
HighGround needs to raise over £90,000 per year – that's £1,335 per attendee – to run these Rural Weeks, which provide armed service personnel (serving or veterans) with a comprehensive insight to the full depth and breadth of employment and career opportunities across the Land-Based Sector.
"Since we piloted HighGround's Rural Weeks back in autumn 2014 the programme has grown beyond my wildest dreams and I am very proud that as an organisation we are doing our bit to help those who have served their country to find life beyond the military – outdoors," commented Anna Baker Cresswell.
Marc Stickley, a former HighGround Delegate explained what he got from the Rural Week he attended, and his aspirations for the future: "I approached the HighGround course at Bicton College 6 months after leaving the Army, after nearly 17 years' service. The resettlement system had not been able to answer my questions relating to careers in the rural sector and I was pointed in the direction of Anna Baker-Cresswell and the HighGround charity."
Marc continued: "The course at Bicton College was fantastic – the other attendees were from varied military backgrounds and all bought experience and aims for the course that fed into the dynamic of the week. The college hosting and organising staff were on hand to smooth the way and all the guest speakers gave a brilliant perspective on their careers in the rural sector and brought to life the challenges in moving in to the various jobs – some from an ex-Military perspective themselves, some from the perspective of what they thought ex-Military would bring to them as employees or colleagues."
"I'm hugely grateful to the HighGround team, particularly Anna, for getting me to Bicton and the Bicton support staff deserve huge thanks for pulling together a top grade package."
During the 5 day residential course, the delegates experience 15 vocational areas including Agriculture, Horticulture, Forestry and Arboriculture, Environmental Conservation, Countryside & Game Keeping, Rural Estate Management to name a few.
The delegates learn from a range of industry experts sharing their knowledge and experience through presentations, practical's and visits.
One employer who attended the event was Ground Control, established in 1984, who employ over 2,500 individuals across the country.  The business operates over the four main areas of grounds maintenance, landscaping, arboriculture and professional services. Neil Huck, training manager for Ground Control said: "Our company is committed to supporting HighGround and Bicton College in the essential work of promoting second career opportunities to former armed service personnel.  Many come to us with existing skills set of problem solving and showing initiative combined with a can do attitude and strong work ethic, making them extremely employable."
Similarly, Hi Line, a local Tree and Vegetation Management company established in 1998, were a business that attended the event. Hi Line are active supporters of HighGround's Rural Weeks for delivering and highlighting job and career opportunities in Arboriculture.  Training Manager Kirsty McNicol said; "We are delighted to provide armed service personnel an insight into our industry and employment opportunities. We see engaging service personnel as hugely important in helping us to fill skills gaps created through the growth of our business.  Within our company of 250 staff around 10% come from a Services background and the individuals perform a range of roles to include arborists, surveyors, trainers and field managers."
Bicton College Principal, Phil Le Grice said "We are proud to host High Ground's Rural Weeks. The college was set up in 1945 after Devon County Council's Agricultural Executive Committee received instructions from the Ministry of Agriculture to find a large house and farm which would be suitable for a Farm Institute to train ex-servicemen and women in agriculture as part of their rehabilitation programme. Since then, the College has trained students for the land-based sector and more recently runs a very successful Military Academy. We feel it is fitting, therefore, that the College is helping to support ex-service men and women to establish themselves in rural careers once again."
If you are a business or an individual that would like to support in any way, please contact Anna Baker Cresswell on anna@highground-uk.org or tweet @HighGroundBoss
ENDS
For further media details, please contact Charlotte Knipe charlotte.knipe@bicton.ac.uk or call 01395 562423
Notes for editors:
Bicton College is a leading land-based college offering FE and HE qualifications up to Foundation Degree level. Set within an area of outstanding natural beauty in the heart of Devon, the College is praised by Inspectors for offering quality 'teaching, learning and assessment outcomes' and has an Ofsted rating of 'Good' (2015).
Playing a vital role in the provision of land based teaching, Bicton College offers its students a diverse range of courses in agriculture, science, engineering, horticulture and more.
Bicton College graduates enjoy excellent career prospects.