An autograph book featuring more than 300 signatures that was bequeathed to the Earl Haig Fund in 1933 is to be sold in aid of Poppyscotland next week to support the leading military charity's work in supporting members of the Armed Forces community.
The book is full of well-known names, including many Prime Ministers – Lord Salisbury, Gladstone, Asquith, Arthur Balfour and Lloyd George – and others such as JM Barrie, Rudyard Kipling, Dame Ellen Terry, Andrew Carnegie, Kier Hardie, Sir Harry Lauder, and HRH Edward Prince of Wales (in 1933). It is hoped the 123-page book will raise thousands of pounds for Poppyscotland.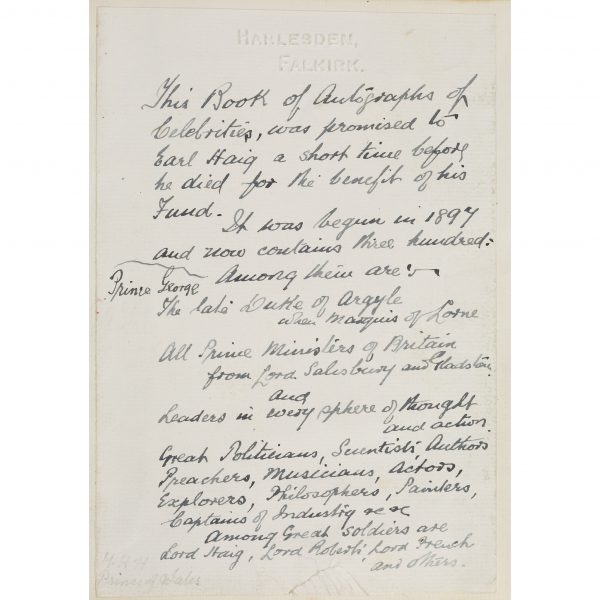 Revealing why the charity has chosen this time to put the autograph book under the hammer, Poppyscotland Head of Fundraising Gordon Michie revealed:
"The book has been stored safely at our premises in Edinburgh for several decades. Last year, we began the process of renovating Lady Haig's Poppy Factory and, during the job of packing everything up, the book was once again brought to the forefront of our minds.

"Staff who were not aware that we held such a special item were fascinated to see the signatures of so many luminaries from yesteryear all gathered together in one place. It created a genuine buzz around the office, and we subsequently took the decision to put it up for auction.

"It was gifted to the Earl Haig Fund for that very purpose – and now we are fulfilling that wish almost 90 years on. Our hope is that it will generate a lot of interest at auction, which will ensure we raise a healthy sum for us to continue to support the Armed Forces community in Scotland. It's special moments such as this that shows we are behind them. Always."
The autograph book (Lot 218) was bequeathed by a HB Watson, of Harlesden, Falkirk, with the signatures gathered from 1897 to 1933. It is contained in its original leather case with a contemporary note of bequest. Auctioneers Lyon & Turnbull estimate that it will fetch between £1,800 and £2,200.
Cathy Marsden, a Book Specialist at Lyon & Turnbull, said: "Lyon & Turnbull are thrilled to be offering this autograph album for sale on behalf of Poppyscotland. It contains a wide range of important signatures from its day, ranging from stars such as Ellen Terry, to explorers such as Fridtjof Nansen; from eminent scientists and engineers like Marconi, to a vast array of important political figures, with Lloyd George and Kier Hardie being among them."
Due to be sold at Lyon & Turnbull (33 Broughton Place, Edinburgh) on 9 October, the sale begins at 11am and public viewing is available in the lead-up to the auction. Please contact Cathy Marsden at cathy.marsden@lyonandturnbull.com, or on 0131 557 8844 with any enquiries. To view the lot, please click here.
Notes to Editors
For further information and all media enquiries, please contact David A. Findlay, PR Manager at Poppyscotland, on 079797 35611, or email at d.findlay@poppyscotland.org.uk.
Poppyscotland provides life-changing support to the Armed Forces community. Money raised from the Scottish Poppy Appeal and Poppyscotland's year-round fundraising enables them to deliver support to members of the Armed Forces community in Scotland by providing tailored funding and assistance. The charity also funds services in advice, employment, housing, mental health, mobility and respite. Please note that we are known as "Poppyscotland", and not "PoppyScotland" or "Poppy Scotland". For more information, please visit us at: www.poppyscotland.org.uk.
The Rare Books Manuscripts & Photographs auction takes place on Wednesday, 9th October, from 11am, at Lyon & Turnbull, Broughton Place, Edinburgh, EH1 3RR. Ahead of the event, public viewing is available on Sunday, 6th (12pm-4pm); Monday, 7th (10am – 5pm); Tuesday, 8th (10am-5pm); and on the day of the sale from 9am.
Operating since 1826, Lyon & Turnbull are Scotland's oldest fine art and antiques auctioneers. The company's galleries in London and Glasgow complement the historic Georgian headquarters and main saleroom in Edinburgh. Hosting nearly 35 specialist auctions per year across the UK there is always something to see at Lyon & Turnbull: from jewellery and watches to fine furniture; traditional British and European art to Modern & Contemporary stars; European decorative arts and design to fine Asian art from China and Japan. For more information, please visit www.lyonandturnbull.com