An Edinburgh institution that each year produces five million poppies and thousands of wreaths for the annual Scottish Poppy Appeal is to undergo a major upgrade programme that will ensure it is fit for purpose for the years ahead.
Work at Lady Haig's Poppy Factory, located close to the centre of Edinburgh, got underway last week, with the staff having recently made the move to a new temporary home at Redford Barracks on the outskirts of the city. It is expected that the upgraded project will take two years to complete, with staff and machinery scheduled to return to the existing site in Canonmills some time in 2021.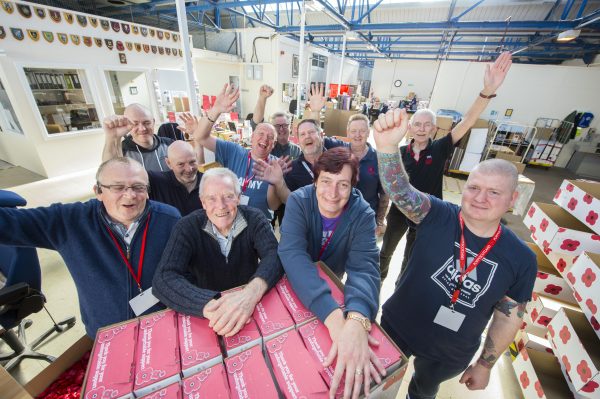 Mark Bibbey, Chief Executive at Poppyscotland, said:
"The redevelopment is much needed and will ensure the long term viability of the Factory and particularly, of course, the supported employment opportunities it provides for disabled veterans."

"Throughout the works period, there will be minimal impact to the production of poppies and wreaths. This will continue just as it has for the past 93 years, with a team of 34 veterans with disabilities hand producing more than five million poppies and 15,000 wreaths annually. Our temporary home at Redford is fully operational now that we've completed the quite a mammoth logistical challenge of moving our machinery, some of which is over 100 years old."
This is just the latest chapter in the story of the Poppy Factory, which began life in 1926 at an old wood chopping factory in the grounds of Whitefoord House, on the Royal Mile. Its beginnings were humble, with just "two workers, a pair of scissors and piece of paper" before growing to employ 117 veterans at one point. The Factory moved to its current home in Canonmills in 1965, and has welcomed royalty, celebrities and thousands of visitors since, but the site has been in need of upgrading for some time.
The upgrade will see health and safety compliance work undertaken, along with the removal of asbestos and the installation of a new fire suppression system. Given that the Factory is now temporarily located at a military base, the public will no longer be able to collect orders or visit the site, but wreaths and other items can be ordered at www.ladyhaigspoppyfactory.org.uk.
Notes to Editors
• For further information and all media enquiries, please contact David A. Findlay, PR Manager at Poppyscotland, on 079797 35611, or email at d.findlay@poppyscotland.org.uk.
• Pictures are free to use. Where appropriate, please credit: Mark Owens/Poppyscotland.
• Poppyscotland provides life-changing support to the Armed Forces community. Money raised from the Scottish Poppy Appeal and Poppyscotland's year-round fundraising enables them to deliver support to members of the Armed Forces community in Scotland by providing tailored funding and assistance. The charity also funds services in advice, employment, housing, mental health, mobility and respite. Please note that we are known as "Poppyscotland", and not "PoppyScotland" or "Poppy Scotland". For more information, please visit us at: www.poppyscotland.org.uk.