A team of rowers skippered by Hitachi Capital (UK) PLC Chairman Guy Munnoch are raising thousands of pounds for national charity Blind Veterans UK, after rowing 3,000 miles across the Atlantic Ocean.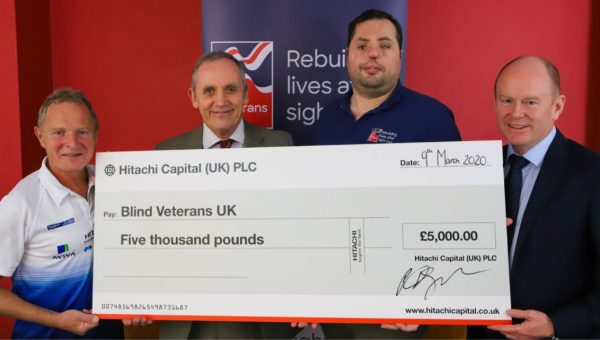 The Ancient Mariners crew of four – Guy Munnoch, 67, from Lovedean, Mike Winn, 64, from Frome, Steve Hughes, 61, from Helensburgh, and John Moorhouse, 63, from Lymm– completed the Talisker Whisky Atlantic Challenge in 49 days.
Rowing a two hours on, two hours off shift pattern for 24 hours a day, the Ancient Mariners overcame seasickness in massive waves, storms, salt sores, blisters, dehydration, sleep deprivation and exhaustion to reach Antigua after 49 days, 8 hours and 40 minutes at sea In their 8.7 metre Hitachi Capital (UK) PLC sponsored Grey Escape vessel.
To date, the Ancient Mariners have raised over £13,000 for Blind Veterans UK, with a further £5,000 donated by Hitachi Capital (UK) PLC.
Robert Gordon, CEO of Hitachi Capital (UK) PLC, said:
"The determination of Guy and his team to complete this tremendous challenge is a fantastic achievement which we have been very proud to support, through our sponsorship and charitable donation.

"The rehabilitation, training and lifelong support provided by Blind Veterans UK helping thousands of veterans overcome sight loss to live fulfilling, independent lives is to be widely applauded." 
Guy Munnoch, Chairman of Hitachi Capital (UK) PLC, added:
"We're extremely pleased to be supporting a charity close to some of the crew members' hearts. Steve and I both spent more than 20 years in the military and our backgrounds very much contributed to overcoming the immense physical and psychological challenges we faced at sea.

"Taking responsibility for communications and navigation tasks of the challenge respectively, our Armed Forces careers and aptitude for resilience were important aspects for the collective team dynamic.  

"We're incredibly grateful to all our sponsors for their support, including Hitachi Capital UK and delighted to assist the invaluable work for blind and vision impaired ex-Service men and women provided by Blind Veterans UK through our endeavour." 
Nick Caplin, CEO of Blind Veterans UK, said:
"The record-breaking achievements of Guy and the team are not only phenomenal but will also allow more blind veterans to rebuild their lives after sight loss.

"The money raised from the Ancient Mariners and Hitachi Capital UK is particularly vital now as we seek to reach the thousands of blind veterans out there who are not currently receiving our support."
The Ancient Mariners' time and average age in crossing the Atlantic Ocean has been lodged with Guinness World Records for ratification as the oldest team of four ever to row across an ocean. To make a donation to Blind Veterans UK, visit The Ancient Mariners' JustGiving page here.
About Hitachi Capital (UK) PLC
Hitachi Capital (UK) PLC is a leading financial services company with over 35 years' experience in providing innovative finance solutions to enable consumers, SMEs, fleet owners, motor dealers and retailers to grow and prosper. Hitachi Capital (UK) PLC has over 1,300 employees, £5.6bn of net earning assets and over 1.4m customers across its five business units; Consumer Finance, Vehicle Solutions, Business Finance, Invoice Finance and European Vendor Solutions.
Hitachi Capital (UK) PLC is a wholly owned subsidiary of Hitachi Capital Corporation, one of Japan's largest non-bank financial institutions. Hitachi Capital Corporation is an affiliate of both Hitachi Ltd, a world leader for manufacturing and technology, and Mitsubishi UFJ Financial Group Inc. Manufacturing continues to be a key part of Hitachi Capital (UK) PLC's DNA, delivering complex products to high levels of customer satisfaction. Its corporate clients include some of the UK's leading companies such as British Gas, Royal Bank of Scotland, B&Q and John Lewis.
About Blind Veterans UK
Blind Veterans UK helps vision-impaired ex-Service men and women of every generation rebuild their lives after sight loss. Since 1915 the charity has provided rehabilitation, training, practical advice and emotional support to tens of thousands of blind veterans.
Blind Veterans UK currently supports more blind veterans than ever before in the charity's history, but it knows there are many more who still need its support to rebuild their lives following their sight loss.