Poppyscotland's national fundraising campaign to mark the centenary of the end of the First World War has captured the imagination of the nation, and none more so than an enthusiastic group of supporters at HMP Castle Huntly. The Dundee-based prison's community has undertaken various challenges in order to reach The Poppy Pledge target of £1,918, which they must fulfil by Remembrance Sunday.
Paul Elliott, a Veterans in Custody Support Officer at the facility, explained: "After a discussion with the Governor, who was fully supportive, we got the go-ahead to take on The 1918 Poppy Pledge. Our community has risen to the challenge in a number of ways and we've already raised £1,300 of the £1,918 target.
"Cakes and biscuits are being made in our training kitchen and are sold at the family visits once a month. I undertook a 440-mile challenge in which I got on my 'virtual' bike and cycled along the Western Front in the gymnasium during the late shift breaks. I was joined on the journey by colleagues. And someone has rowed more than one million metres on a rowing machine, while others have run, cycled and rowed 1,918 miles. All in all, it is been a great effort by so many people at Castle Huntly."
Paul continued: "One-hundred poppies were handcrafted and painted by Veterans in Custody to help raise awareness and funds for the 2018 Scottish Poppy Appeal. This has been undertaken with the help of the art department team at Fife College. Some have been sold in a local veterans shop in Angus and many have been bought by our community."
But it's not just fundraising that is being undertaken. There are a number of other Remembrance-focused activities taking place in and around the Castle. Paul adds: "Our memorial garden has been redesigned with hundreds of poppies flowering. The four benches have been repainted to celebrate the occasion and this culminated with a visit by the National Chairman from Legion Scotland.
"Poppy seeds were bought and transferred into small envelopes and sold to allow our community to 'Poppy Bomb' in the local areas, thereby creating small poppy fields throughout Scotland and all over Europe! Along with the fundraising, many have shared stories of relatives that served during the Great War and many have given up their free time to ensure the garden has been kept in excellent. I would like to thank all those that have given their time, energy and money to make this a successful event for the establishment."
Gordon Michie, Head of Fundraising for Poppyscotland, said: "In this important centenary year, The 1918 Poppy Pledge has inspired groups, schools, businesses, clubs and organisations around the country to take on the challenge of raising £1,918 which will provide a lasting tribute to those who fell in the First World War.
"The fundraising efforts by the guys at HMP Castle Huntly are diverse and interesting and we commend them for all that they have done to date. It is Pledgers such as these that will allow us to make a step change in the scale of support Poppyscotland is able to provide those in the Armed Forces community who rely on our support today."
Poppyscotland provides and funds a variety of services for veterans. They aim to help as many people in the Armed Forces community as possible, and Mr Michie added: "We support people of all ages, whether difficulties have arisen during time in the Armed Forces or many years later. We also help the families of ex-Servicemen and ex-Servicewomen, including partners, widows, widowers and children."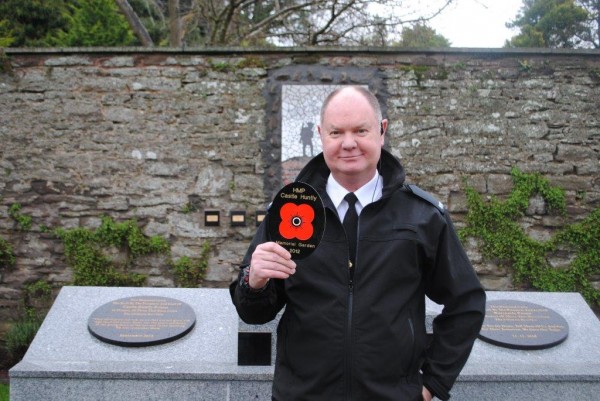 Notes to editors
For further information please contact David A. Findlay, PR Manager at Poppyscotland, on 0131 550 1580 or 079797 35611, or email at d.findlay@poppyscotland.org.uk.
Poppyscotland provides life-changing support to the Armed Forces community. Money raised from the Scottish Poppy Appeal and Poppyscotland's year-round fundraising enables them to deliver support to members of the Armed Forces community in Scotland by providing tailored funding and assistance. The charity also funds services in advice, employment, housing, mental health, mobility and respite. Please note that we are known as "Poppyscotland", and not "PoppyScotland" or "Poppy Scotland". For more information, please visit us at: www.poppyscotland.org.uk.