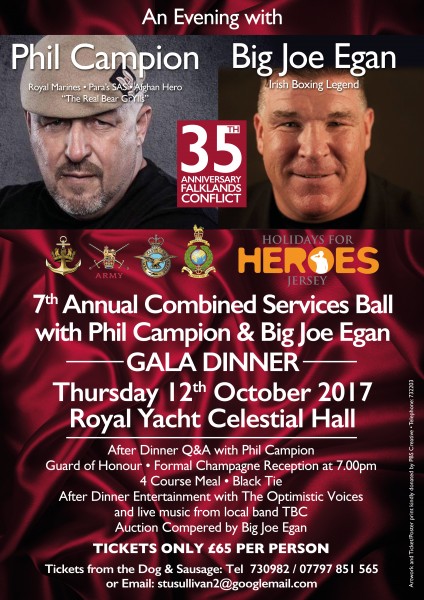 The Dinner was held on 12th October at The Royal Yacht Hotel in St Helier, Jersey. Organised by Stuart Sullivan, landlord of the Dog & Sausage, a very military Pub in St Helier! This was the seventh such dinner arranged by him and included a presentation and Q & A with former SAS Phil Campion together boxing champion and ​former ​sparring partner of Mike Tyson, "Big" Joe Egan.
​Joe is a superb Auctioneer and unique lots such as a painting of HRH Prince Charles as C in C Parachute Regiment were sold at great prices. ​This excellent evening raised almost £2360.
In 2017 we had the pleasure and privilege of providing 302 guests with a week's holiday in Jersey at The Merton Hotel on a Half Board Tariff, flights or ferry included together with many free events. Our spend was £202,000.00 and so help and support from Islanders, the local business community and increasingly from the UK.