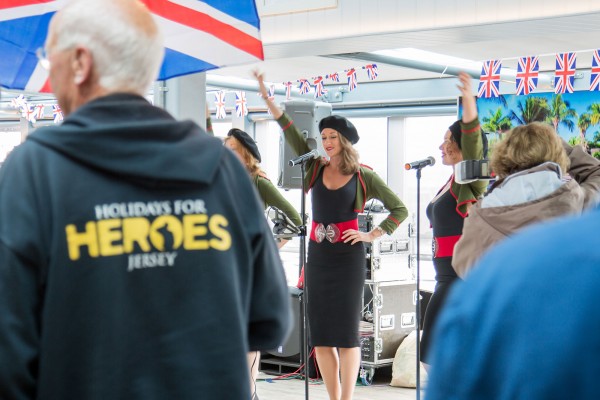 Support for Holidays for Heroes Jersey is so strong in Jersey and on 14th September, a fundraising event at The Boat House Restaurant in St Aubin,  provided guests not only with a grandstand view of the Jersey International Air Display, but also an opportunity to help two deserving causes.
A total of £15,000 was raised which included more than £12,000 donated to Holidays for Heroes Jersey and just over £3,000 to help provide relief aid for Barbuda – the first Caribbean island to suffer the full force of Hurricane Irma.
James Lane, director of the Boat House Group, has a personal connection to the Caribbean island and wanted to raise money to send directly to those in need.
Entertainment throughout the afternoon started with singers the Optimistic Voices, who were dressed in 1940s military wear to create an authentic atmosphere for the event. Guests were also able to enjoy canapés and bubbles.
The highlight of the day was the silent auction which enabled guests to bid on a selection of amazing prizes, which included Caribbean holidays, private tennis lessons, and a pair of premiership football tickets to see Arsenal play.
In expressing gratitude for the donation to Holidays for Heroes Jersey, Richard Woodhouse, a founder of the Charity with wife Dawn, explained that the funds would be sufficient to provide holidays for up to 15 people next year. Thanks were also expressed by Tracey McClung, one of a group of injured service personnel brought to the Island by the charity this month. Tracey, who suffers from P.T.S.D., served with the British Army in Bosnia; she was accompanied by her husband.