Secondments now form an integral part of the Civil Service 'Fast Stream' graduate development programme. The Whitehall & Industry Group (WIG), through the Charity Next scheme, leads on arranging secondments into registered charities and social enterprises for Fast Streamers in their 2nd year of the programme.
We are always looking to register charities and social enterprises as hosts for enthusiastic, capable fast streamers for six- month projects. The roles will give candidates experience and areas of ownership in a minimum of one of the following core skills: finance, commercial awareness and/or digital delivery. We also look for development in knowledge of change, programme, project, and people management.
Key benefits to your organisation
By hosting a talented or future leader you will be able to benefit from their skills and experience and gain a valuable vantage point from outside the sector that brings a fresh perspective into your organisation.  The individual can also make a substantial and practical contribution to your organisation's strategic and operational goals.
To date, 90% of participating charities have said that a key project or service could not have been delivered without a Charity Next resource, leaving a lasting impact on the charity and its beneficiaries.
Laura Parker, CEO – Children and Families Across Borders 
"Children and Families Across Borders has been absolutely delighted to host fast stream civil servants and I really cannot recommend this scheme highly enough. As a relatively small charity, being able to bring into the team people with such talent to help drive forward our modernisation agenda and lead on new initiatives and special projects has been invaluable. All of our team has been so impressed by the combination of attention to detail, strategic thinking and phenomenal speed with which they have produced the highest quality work."
David Jordan on secondment to Humanitarian Leadership Academy (from the Civil Service Fast Stream)
"The placement  I've had has been absolutely excellent, and given me a wonderful opportunity to experience a very fluid and dynamic organisation in a completely different sector.I was given a stretching project to work on, and worked with some very capable people, including my line manager (an ex-PwC consultant) who has spent part of the placement focusing on my personal and professional development despite there being no obligation for either him or the charity to do so.  I was made to feel very welcome and have always felt like part of the team. I heartily recommend the Academy as a future potential placement for any fast streamer and indeed, potentially more experienced civil servants too. I genuinely have next to nothing to say in terms of areas to improve, because this placement really has been excellent- and it has included an international element to it, which I know will appeal to a lot of fast streamers."
About Charity Next
Charity Next is an initiative to improve cross sector understanding between the sectors through secondments. Established by The Prince's Charities Foundation, it is now run in partnership with The Whitehall & Industry Group (WIG).
Charity Next gives future Civil Service leaders the opportunity to contribute their skills and enthusiasm to key posts in the voluntary sector, in order to facilitate an exchange of expertise, build greater mutual understanding and encourage closer working.
Participating charities include: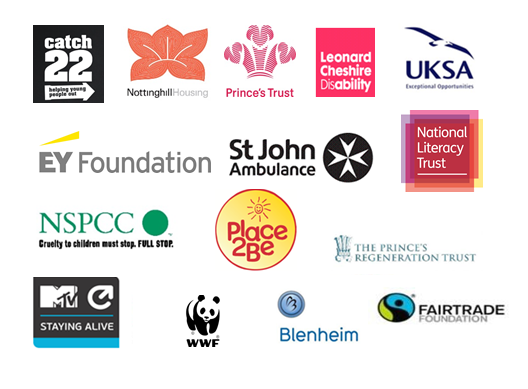 How is the scheme funded?
Charity Next charges a brokerage fee of £1000 (plus VAT) to each participating charity;
Payment of the candidate's salary costs during secondment is met by the Civil Service.
What next?
If you think your charity can benefit from this great opportunity, or for information on secondments in addition to Charity Next, please contact Lydia Garrett, Charity Next Director.
charitynext@wig.co.uk/lg@wig.co.uk
020 7222 1166
www.wig.co.uk/CharityNext