The veterans of military charity Blind Veterans UK received a message today from their Patron HRH The Countess of Wessex when they gathered to mark the 75th anniversary of VE Day.
Parties were held at the charity's care home in Brighton as well as 28 virtual parties featuring over 160 WWII blind veterans as the nation came together to mark the occasion.
The Countess recorded a message to all blind veterans, staff and volunteers of the charity. In it she said:
"In these challenging and uncertain times, all the veterans, staff and volunteers at Blind Veterans UK are in my thoughts.

"As the veterans of the Second World War will understand only too well, it is when we work together and support each other that a far greater strength is revealed. Your example of serving together, as a team, shows that we can make a greater difference to the communities we seek to support."
The recorded message was played to the over 160 WWII blind veterans who took part in virtual street parties arranged by the charity as well as all residents of the Blind Veterans UK care home in Brighton.
Addressing those in Brighton, The Countess of Wessex added:
"I would like to pay special tribute to the wonderful care teams at our Brighton centre, as well as many others, who are working so hard to ensure that residents are safe and well cared for. Thank you for all you do to be the frontline family for these veterans."
Chief Executive of Blind Veterans UK, Major General (Rtd) Nick Caplin CB says:
"There were due to be celebrations across the country and the rest of Europe but, with the impact that coronavirus has had, most of these were cancelled.

"Blind Veterans UK took the opportunity to trial "virtual" gatherings that we called our Virtual Street Party, to bring as many WWII blind veterans together as possible to mark VE Day.

"Many of our veterans are particularly vulnerable right now, isolated in their own homes. We are ensuring that they have everything they need but social interaction is also hugely important.

"Our goal was to have at least 75 Second World War veterans join a virtual table at this 75th anniversary event but we ended up more than doubling that with 166 which is absolutely fantastic.

"The message from The Countess of Wessex was definitely the highlight for all those listening."
One of the WWII blind veterans taking part in the virtual party was 97-year-old Margaret Wilson. Margaret, who lives in Shirebrook in Derbyshire, joined the Women's Auxiliary Air Force in 1942.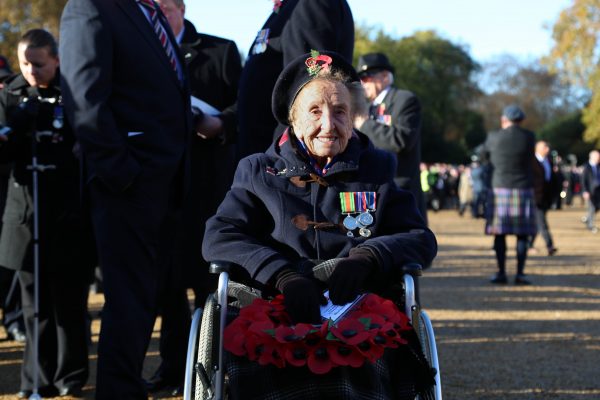 She initially served as a wireless operator but later in the war she trained in Vital Communications and went on to work as a Codebreaker at Bletchley Park.
Remembering VE Day 75 years ago Margaret says:
"I was on duty when I heard. We all finished at Bletchley Park at 6 and went to Bedford where we were billeted in the YWCA.

"At 10 there was such a pandemonium – everything that could make a noise was out. People were blowing trumpets and banging drums and parading through the streets. They asked us to join in, but we were in our pyjamas and we were back on shift at Bletchley the next day too!"
Margaret lost her sight much later in life due to age-related macular degeneration, the leading cause of sight loss in older people and has been supported by Blind Veterans UK since 2016.
Margaret says:
"When I first visited one of the training centres for an introduction week I was blown away. The biggest impact it had on me was meeting and being around all those other people, many who had much worse sight than me, who were getting on with life.

"Normally, I join a group of other local blind veterans for a lunch once or twice a month and I'm really missing those having to stay at home right now. I'm a very social person so it was great to be able to catch up with old friends and remember VE Day."
As a result of the Covid-19 pandemic Blind Veterans UK has adapted its service to support its 5,000 beneficiaries, 90% of whom are over 70 and thus being advised by the Government to self-isolate. The National Support Service will help blind veterans through this period of social isolation.
Nick Caplin adds:
"Having to self-isolate, blind veterans need our help right now with daily tasks, such as the shopping, and constant emotional support through this difficult time. So we are temporarily changing our service and mobilising our staff to provide practical, essential support to help the most vulnerable.

"There is so much that we can and must do to support blind veterans to help them maintain physical and emotional wellbeing, and to feel safe, reassured and cared for during this crisis."
You can keep updated on Blind Veterans UK's response to Covid-19 at blindveterans.org.uk/coronavirus where you can also find out more about supporting the charity to make this new service possible.
Notes to Editor
Blind Veterans UK helps vision-impaired ex-Service men and women of every generation rebuild their lives after sight loss. Since 1915, we've provided rehabilitation, training, practical advice and emotional support to tens of thousands of blind veterans.
Find out more at: blindveterans.org.uk and follow us on Facebook at: facebook.com/blindveteransuk and on Twitter at: twitter.com/blindveterans.