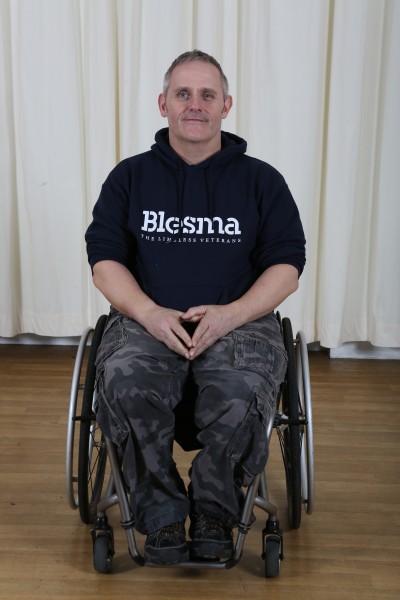 Luke Delahunty, 44, from Aylesbury, Buckinghamshire is taking on the London Marathon to give back to three charities that have helped him after injury; Blesma, the Limbless Veterans, Help for Heroes and RAF Benevolent Fund.
On 3rd October 1996, Luke was serving in the RAF when he was involved in a road traffic accident. The accident resulted in Luke being paralysed from the chest down.
"The previous two times I have done the Marathon, I've just rocked up and done it," said Luke. "This time I've done a lot more cycling since, but I've spent twenty years training considering I'm always pushing."
Luke will be taking part in the Day Chair event this Sunday and is hoping to beat his previous time of 4hours 54 minutes.
"I wanted to give back to the charities that have helped me most. I've been on a number of cycling rehabilitation activities with Blesma and they've helped me with my home. If I was going to do it, I may as well do it for Charity."
To support Luke, please visit: http://uk.virginmoneygiving.com/LukeDelahunty
-ENDS-
Notes to Editor
Hi-res images can be downloaded from the links below: http://blesma.org/media/440351/6k5b7538.jpg
About Blesma, The Limbless Veterans
Blesma, The Limbless Veterans is the national charity for all limbless serving and ex-service men and women, their widows and dependants.  It is a membership organisation which helps wounded service men and women rebuild their lives by providing rehabilitation activities and welfare support. Their membership includes those who have lost the use of a limb, an eye or the sight of an eye.
Blesma was formed in the years following the First World War and became a national charity in 1932.  Blesma today has over 4000 Members and widows. The membership consists of men and women who have served during the Second World War and the many subsequent conflicts and peacekeeping operations since, including the Falklands, Northern Ireland, Iraq and Afghanistan.
Follow us on Twitter @Blesma and Instagram @Blesma
For further information on Blesma, The Limbless Veterans, contact, Jessica Mackinnon, In-house journalist, E: ihj@blesma.org, T: 020 8590 1124, W: www.blesma.org