It is said that members of the Armed Forces have a distinctly left-field sense of humour, a sense of humour those without service experience might find a little "dark".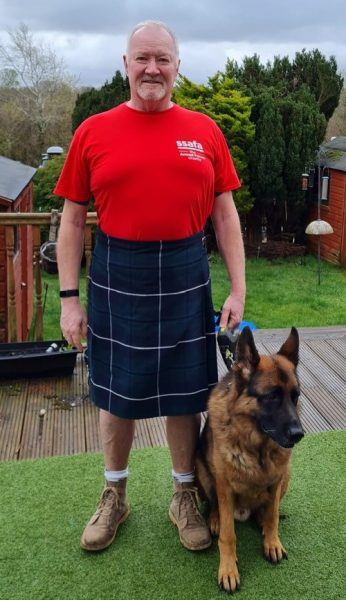 So when Joe Scott, 60, says he is putting his new heart into taking part in the Glasgow Kiltwalk for SSAFA, the Armed Forces charity on April 24, he really means it.
He had a heart transplant in October last year.
Joe, who was born in Falkirk and now lives in Irvine, Ayrshire, joined the Paras in 1982 after seeing the brave men of the regiment assist in liberating the Falklands. He left in 1994, and embarked on a second successful career, this time in the motor industry in sales management with Mercedes Benz vans.
He describes his transplant, carried out at Clydebank's Golden Jubilee National Hospital, as having given him "the gift of life", but is mindful that this gift came at, in his words, the
"… amazing donor's sad loss of his life".
Explaining his reasons for taking on the Glasgow Kiltwalk, Joe paid tribute to a man he can never meet, saying:
"My drive to do the Kiltwalk is firstly in respect to my donor who, with his and his family's selfless act, will allow me to do this event.

"I would never have been able to achieve this before his ultimate gesture, and I truly cannot find the correct words of gratitude I have for that great man."
Joe, who clearly still lives by his regiment's motto of Utrinque paratus ("Ready for Anything"), added:
"Secondly, it's important to me and my new heart to give something back to the many folks in need who were part of the Armed Forces no matter what branch or unit they were in.

"This is why it is my privilege and honour, my duty really, to work hard to get fitter each day – literally putting my heart into it – and carry out the wee wander Kiltwalk for SSAFA so it can support more of our serving and retired personnel, as well as their families, when they need it and how they need it."
To support Joe on his inspirational Glasgow Kiltwalk, visit his fundraising page here.
For more information about SSAFA, visit ssafa.org.uk.