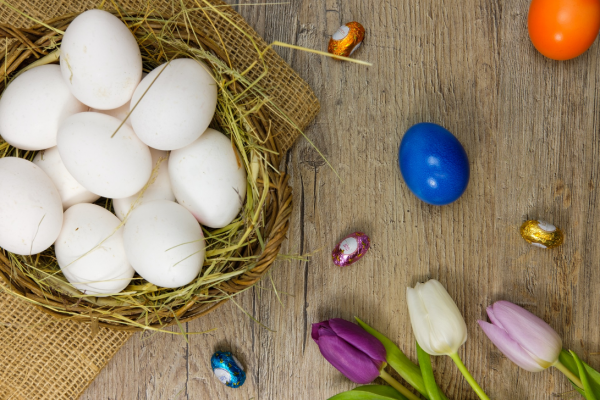 Blind Veterans UK, a local charity for blind and vision-impaired ex-Service men and women, is inviting local residents to join them for an afternoon of Easter-themed family fun.
The event, Easter Family Fun, will involve a range of Easter-themed art activities, including cake decorating and a blindfolded woodland egg-chime trail, giving participants the chance to win a basket of exciting Easter-themed prizes. It will take place from 1pm to 4pm on Saturday 31 March at the charity's training and rehabilitation centre in Llandudno, North Wales.
The event has been specially designed so that it's fully accessible for those with a vision-impairment. Victoria Beech, Regional Fundraiser, says: "We think it's really important, as a charity for vision-impaired veterans, for our activities to be as accessible as possible for our supporters and for young people in our community with vision-impairments.
"With that in mind, the Easter egg trail will be blindfolded and will include clues written in braille and raised block letters. Similarly, the art activities will make use of textured materials to ensure inclusivity for all our guests."
The Easter Family Fun event will take place at the Blind Veterans UK Llandudno centre on Saturday 31 March from 1pm to 4pm. Admission costs £3 per child, payable on arrival, which includes all participation in all activities, cordial and cake. Please note, all children 16 years and under must be accompanied by an adult at all times. Refreshments will be available for adults, with tickets for the Easter raffle being available for purchase too.
For more information, please email Victoria.beech@blindveterans.org.uk or call 01492 864574.
Blind Veterans UK was founded in 1915 and the charity's initial purpose was to help and support soldiers blinded in WWI. But the organisation has gone on to support more than 35,000 blind veterans and their families, spanning WWII to recent conflicts including Iraq and Afghanistan.
For more than a century, the charity has been providing vital free training, rehabilitation, equipment and emotional support to blind and vision-impaired veterans no matter when they served or how they lost their sight. Visit blindveterans.org.uk/support to learn more about the charity and how you can support its vital work today.
For all media enquiries please contact: Felix Arbenz-Caines, PR Assistant, Blind Veterans UK, 12 – 14 Harcourt Street, London W1H 4HD, E: Felix.Arbenz-Caines@blindveterans.org.uk, T: 020 7616 7941
Notes to Editor
Blind Veterans UK
Blind Veterans UK is a national charity that believes that no-one who has served our country should have to battle blindness alone. Founded in 1915, the charity provides blind and vision impaired ex-Service men and women with lifelong support including welfare support, rehabilitation, training, residential and respite care.
Find out more at: blindveterans.org.uk, follow us on Facebook at: facebook.com/blindveteransuk and on Twitter at: twitter.com/blindveterans.