Cooking Up Cash for Armed Forces Charities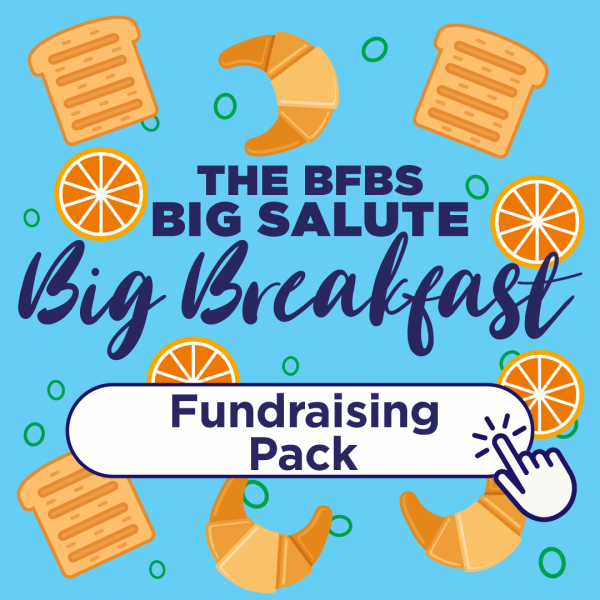 This year's BFBS Big Salute Big Breakfast campaign week is a chance for units, schools, colleagues and friends to come together and cook up some cash for armed forces charities.
To help with the planning, we've produced a downloadable Fundraising Pack at www.forces.net/bigsalute with creative ideas for work, school and home – there's even a printable poster and bunting to decorate a kitchen, canteen or cookhouse. The pack is also available via email at bigsalute@bfbs.com
From 30 September to 4 October, Richard Hatch and Verity Geere will be out and about in the UK with their Forces Radio BFBS Breakfast Show (0630-10 UK) from RAF Waddington on Monday to Portsmouth Historic Dockyard on the Friday.
And during the campaign week we'll also be hearing about the BFBS Big Salute Big Breakfast from overseas locations on Totally Connected on Forces Radio BFBS from 10am (UK).
The charities most recently supported by the BFBS Big Salute are:
Building Heroes,
Bournemouth War Memorial Homes,
Clervaux Trust,
AF & V Launchpad Ltd,
Royal Air Forces Association,
Royal Navy and Royal Marines Charity,
Scotty's Little Soldiers, and
Winchester Sea Cadets
Go to www.forces.net/bigsalute to see some of the projects funded by Big Salute grants and find out how your own Big Breakfast can make a big difference to armed forces charities.
Note to Editors:
The BFBS Big Salute campaign week will be broadcast on Forces Radio BFBS on www.forces.net, on the BFBS app, on Sky 0211, or Freesat 786. BFBS Radio is available regionally and across the forces world on DAB and FM. Visit www.forces.net to find your local station. Follow us on Twitter @bfbs or like us on Facebook @BFBSRadio.
BFBS is a military charity and broadcaster that informs, entertains, connects and champions the UK Armed Forces.