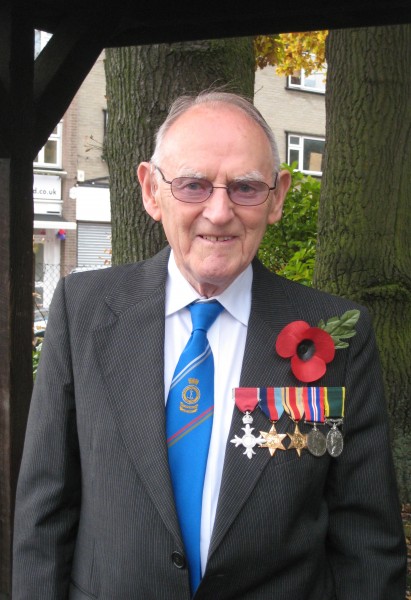 A blind veteran from Kent is set to march at the Cenotaph in London this Remembrance Sunday (12/11) with the charity Blind Veterans UK.
Frank Unwin, 97 and from Orpington, will be marching at the Cenotaph in London with more than 100 other blind veterans supported by Blind Veterans UK, the national charity for vision-impaired ex-Service men and women.
Frank says: "For me, Remembrance means looking back at the Second World War and all the fellows who didn't make it back alive. It's also an opportunity to reflect on all the times that I myself narrowly and miraculously avoided death."
He continues: "It's an occasion that features strongly in our family, given the number of losses we've sadly experienced as a result of war. My own sister, Betty, at the age of 12, was lost aboard the City of Benares in September 1940."
Frank enlisted in the Territorial Army in April 1939 and was mobilised on the outbreak of war. He recalls: "I was deployed out to Egypt in November 1940 as part of the 234 Battery, 68th Medium Regiment, Royal Artillery. After a month's acclimatisation in Cairo, we went into the Western Desert where we fought and defeated the Italian forces."
Frank then sailed to Greece to support the Greek army, though was later forced to retreat to Athens after being overwhelmed by the German forces. After being picked up by the merchantmen and ships of the Royal Navy, Frank was dropped at Crete, before again undergoing a forced evacuation due to a parachute attack.
In a subsequent convoy of two cruises and five destroyers, in which Frank was aboard HMS Orion, eight hours of constant bombing resulted in the loss of nearly 400 lives. Remarkably, Frank's ship made it to Alexandria safely.
In June 1942, while in Tobruk, Frank was captured by German forces and taken as a prisoner of war. He was handed over to the Italian army, who in turn transported him to Italy. Frank recalls: "I was held for a year at prisoner of war camp No PG 82, which was in Laterina, Tuscany.
"In spring 1943 I managed my first escape, only to be recaptured within one week. Upon my return, however, I joined an escape tunnel team, though just days before we were finished, the Italians signed an Armistice. This time, therefore, I was able to escape by simply cutting the barbed wire fence!"
After escaping, Frank sought refuge in the hills of Tuscany for five months. He explains: "I was taken in by the villagers of Montebenichi, a small picturesque hilltop village. They were risking their lives by sheltering me from the Nazis.  It was a wonderful show of bravery and kindness."
As the months passed and there was no news of the long-promised Allied advance, Frank grew increasingly concerned that he couldn't contact his parents. He therefore left Montebenichi, however his attempt to rejoin the Allied forces ended in recapture and transportation to Germany.
Frank spent a year of hard labour at a work camp based at a stone quarry.  In spring 1945 he was ordered to transfer to another work camp at a salt mine.  Fortunately for Frank, with the advance of the Allied forces, an order was dispatched that there be no further movement of prisoners. Frank then took part in 'The Long March', before his eventual release in April 1945 when he returned to his family in Liverpool.  On his return home he weighed less than six stone.
Despite the horrors he experienced, Frank's wartime experiences gave him a lifelong love of travel, something which ultimately led him to join the Foreign Office in 1958. He recalls: "In 1953 I married my wife, Marjorie, and we had two children. We travelled all over the world with my work, from Cuba and Tel Aviv to Vientiane and Milan."
It was in 2002 that Frank first noticed there was an issue with his eyesight. He recalls: "I was referred to the West Kent Eye Centre and subsequently told I had age-related macular degeneration. Since then my sight has deteriorated markedly. I can no longer see people's faces."
Despite his sight loss, Frank has written a book detailing his wartime experiences of captivity and escape.  His book, entitled 'Escaping has ceased to be a sport', which documents his story of bravery and resilience, is due for release in April 2018.
It wasn't until 2013 that Frank came across Blind Veterans UK. He says: "I was at a ceremony in Italy for the 70th anniversary of the Italian Armistice, and someone handed me some information on the charity. Shortly after, I decided to make some enquires and, after an eye test, was told I was eligible for the support of Blind Veterans UK.
"Since then the charity has done a great deal for me. I've enjoyed three of four great visits to their Brighton centre, which includes respite care – a massive relief from the pressure of living at home alone.
"There are so many social events to take part in as well, including the WWII prisoner of war reunions at the Brighton centre and the respite holidays. Just two years ago I was able to attend both a Garden Party at Buckingham Palace and special service at Westminster Abbey.
"Aside from the social events, they've looked after me at home in various practical ways. I've received a personal alarm, stair rails in my garden, a talking clock and a talking watch. And they are currently negotiating a discount for me in the purchase of a stair lift, for which I'm really grateful.  Overall Blind Veterans UK has been invaluable in helping me to remain independent in my own home."
Frank is set to march with other vision-impaired ex-Service men and women supported by Blind Veterans UK as part of the national Remembrance Sunday commemorations in London on Sunday 12 November 2017. Specsavers stores across the UK will be fundraising from 6 to 12 November on behalf of Blind Veterans UK to help Frank, and others like him, march at the Cenotaph.
Specsavers has supported Blind Veterans UK since 2012 and, as well as raising money for the charity, has referred a number of customers to them so they can access its support.
Chief Executive of Blind Veterans UK, Major General (Rtd) Nick Caplin CB says: "Remembrance Sunday is always a very poignant time for our blind veterans and it is fantastic that Specsavers are able to support them to get to march at the Cenotaph.
"Today, Blind Veterans UK supports more blind and vision-impaired veterans than ever before in the charity's history and we have set an ambitious target to double the number of veterans we support in the next five years."
Blind Veterans UK is the national charity for blind and vision-impaired ex-Service men and women, providing vital practical and emotional support to help veterans discover life beyond sight loss. The charity estimates that there are currently 59,000 blind veterans that would be eligible to access its specialist support, most of whom are not currently aware of it.
If you, or someone you know, served in the Armed Forces or did National Service and are now battling severe sight loss, find out how Blind Veterans UK could help by calling 0800 389 7979 or visiting blindveterans.org.uk.
For all media enquiries please contact: Felix Arbenz-Caines, PR Assistant, Blind Veterans UK, 12 – 14 Harcourt Street, London W1H 4HD, E: felix.arbenz-caines@blindveterans.org.uk, T: 020 7616 7941
Notes to Editor
Blind Veterans UK
Blind Veterans UK is a national charity that believes that no-one who has served our country should have to battle blindness alone. It provides blind and vision-impaired ex-Service men and women with lifelong support including welfare support, rehabilitation, training, residential and respite care.
Find out more at: www.blindveterans.org.uk, and follow us on Facebook at: facebook.com/blindveteransuk and on Twitter at: twitter.com/blindveterans.