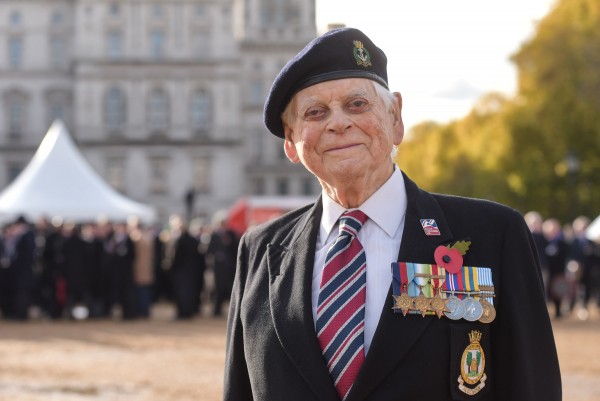 A blind veteran from Kent has marched at the Cenotaph in London this Remembrance Sunday (12/11) with the charity Blind Veterans UK.
David Scott, 93 and from Tunbridge Wells, marched with more than 100 other blind veterans supported by Blind Veterans UK, the national charity for vision-impaired ex-Service men and women.
David says: "It was a splendid day, truly splendid. There was a frisson of excitement in the air which only grew as we began moving.
"The crowds, as ever, were fantastic. The support accentuated anything I'd experienced before. My son, who was escorting me, felt the same. For every single veteran there, it was an opportunity to remember our fallen comrades, and this feeling was transmitted to the crowds, which made for a truly special atmosphere."
David joined the Royal Navy straight from school in 1938. His first operational tour was on the HMS Rodney, which had recently fought against The Bismarck; one of Germany's most famous battleships. David trained as an ant-aircraft gun controller, he says: "The guns were high upon the ship and a group were stationed inside a high tower looking out for enemy aircraft. They'd then decide whether to shoot.
"I enjoyed my time in the Navy; of course, you remember the good times and forget the bad. I was fortunate enough to see quite a bit of the world, but make no mistake, it was no cruise line."
David was discharged from the Navy as Lieutenant Commander in 1958. It wasn't until later in life that David suddenly lost his sight. He explains: "I had been on holiday with my family and everything seemed as it should. When I awoke the next morning, I couldn't see."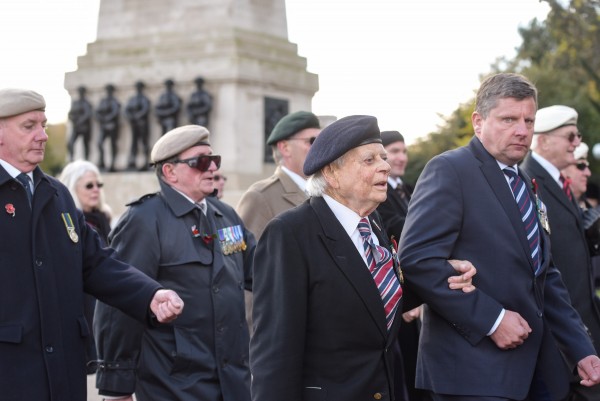 David had suffered an eye haemorrhage. It was stabilised but his eyesight did not recover. He is severely vision-impaired and uses magnification aids to read. Fortunately, David was already aware of Blind Veterans UK through his brother, an existing beneficiary of the charity.
Thanks to the support of the charity, David has been able to rediscover a life of independence despite his sight loss. He says: "I am so glad I got in touch, the charity has been helping me ever since. The induction week was great, I met so many lovely people and was able to experience many activities I thought were no longer possible.
"My wife was invited to come with me as well and she enjoyed it just as much as I did. The support provided to partners and family members is also first class."
Through the charity, David has been able to try archery, acoustic shooting and bowls, as well as receiving an introduction to IT. David was also able to reunite with his brother, with whom he hadn't spent any considerable time since 1995.  The two were able to enjoy a week in each other's company at the charity's Brighton centre.
David marched with other vision-impaired ex-Service men and women supported by Blind Veterans UK as part of the national Remembrance Sunday commemorations in London on Sunday 12 November 2017. Specsavers stores across the country were fundraising from 6 – 12 November to help get David and all the other blind veterans there.
Specsavers has supported Blind Veterans UK since 2012 and, as well as raising money for the charity, has referred a number of customers to them so they can access its support.
Chief Executive of Blind Veterans UK, Major General (Rtd) Nick Caplin CB says: "Remembrance Sunday is always a very poignant time for our blind veterans and it is fantastic that Specsavers were able to support them to get to march at the Cenotaph.
Blind Veterans UK is the national charity for blind and vision-impaired ex-Service men and women, providing vital practical and emotional support to help veterans discover life beyond sight loss. The charity estimates that there are currently 59,000 blind veterans that would be eligible to access its specialist support, most of whom are not currently aware of it.
If you, or someone you know, served in the Armed Forces or did National Service and are now battling severe sight loss, find out how Blind Veterans UK could help by calling 0800 389 7979 or visiting blindveterans.org.uk.
For all media enquiries please contact: Mark Wheeler, PR Manager, Blind Veterans UK, 12 – 14 Harcourt Street, London W1H 4HD, E: mark.wheeler@blindveterans.org.uk, T: 020 7616 7980
Notes to Editor
Blind Veterans UK
Blind Veterans UK is a national charity that believes that no-one who has served our country should have to battle blindness alone. It provides blind and vision-impaired ex-Service men and women with lifelong support including welfare support, rehabilitation, training, residential and respite care.
Find out more at: www.blindveterans.org.uk, and follow us on Facebook at: facebook.com/blindveteransuk and on Twitter at: twitter.com/blindveterans.