King's Lynn based medical device manufacturer, Bespak, has concluded a year with Scotty's Little Soldiers as its chosen Charity of the Year, raising £23,000 for bereaved Armed Forces children.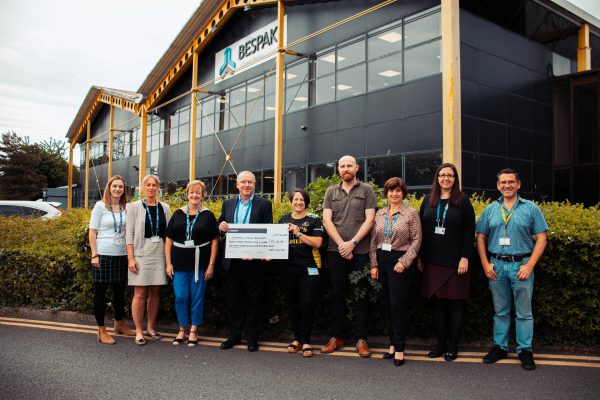 Scotty's Little Soldiers, a charity which supports over 350 bereaved Armed Forces children across the UK, was selected following an employee vote in June 2018 to benefit from the company's support over the subsequent 12 months.
As part of its Charity of the Year commitment, Bespak, the leading developer and manufacturer of complex medical devices, undertook a host of fundraising activities throughout the 12 months in order to raise money for Scotty's Little Soldiers. Just some of fundraising activities included: a charity bike ride, office sweepstakes, fantasy football, an Easter raffle, 'Go Green for Halloween' campaign, donating foreign currency, a Royal Wedding cake day as well as having donation pots for staff to donate extra change.
This fundraising activity was complemented by a tremendous personal touch from staff, volunteering to help with the mammoth task of wrapping Easter Eggs and Christmas presents for Scotty's children and volunteer at its annual Christmas Party – something the company's staff have again offered to do despite moving on to another Charity of the Year for 2019.
Founded by war widow Nikki Scott in 2010, Scotty's Little Soldiers supports children across the UK. The charity was set up in memory of Nikki's husband and father to her two children, Corporal Lee Scott, after he was killed in Afghanistan in 2009.
Bespak Managing Director, Keyvan Djamarani said "We're proud to have raised this money for such a great charity. Over the course of a year we've done a number of different things to raise funds and staff have been thoroughly involved – I think the charity's message really resonated with us as a company." 
Stuart Robinson, CEO of Scotty's Little Soldiers, said: "We're tremendously grateful for the money which Bespak has raised for us. It's fantastic to see this kind of support from a business local to us and we just want to thank them again for choosing us as their charity of the year. This money will help us continue to support our growing number of members and provide the guidance they need."
To learn more about Scotty's Little Soldiers visit scottyslittlesoldiers.co.uk
To find out more about Bespak visit www.bespak.com
Notes to Editors
To speak to a member of the Scotty's Little Soldiers team, please contact Scotty's national PR agency: Claire Lomax (claire@wolfstarconsultancy.com) or Chris Grayson (chrisg@wolfstarconsultancy.com) 0113 273 7816.
About Scotty's Little Soldiers
Scotty's Little Soldiers, founded in 2010, honours Corporal Lee Scott's memory – both as a loyal soldier and a loving father – and provides a practical yet personal way for the public at large to show their appreciation for those brave individuals who make the ultimate sacrifice in the service of their country. Currently Scotty's Little Soldiers supports 372 bereaved children and runs a variety of programmes to help children smile again and look forward to a brighter future. You can visit the charity online at www.scottyslittlesoldiers.co.uk.