The family and friends of Kirkfieldbank's Corporal Jamie Davies, known as Delta, have raised over £8,000 for two charities this month. The Jamie Delta Davies Memorial Day took place on Saturday 5 October to honour the memory of the corporal who took his own life on 6 August last year following a battle with PTSD.
Money was raised for bereaved Armed Forces children's charity Scotty's Little Soldiers, which supports his two children Archie (7) and Eilidh (2), alongside Chris's House – a suicide awareness charity.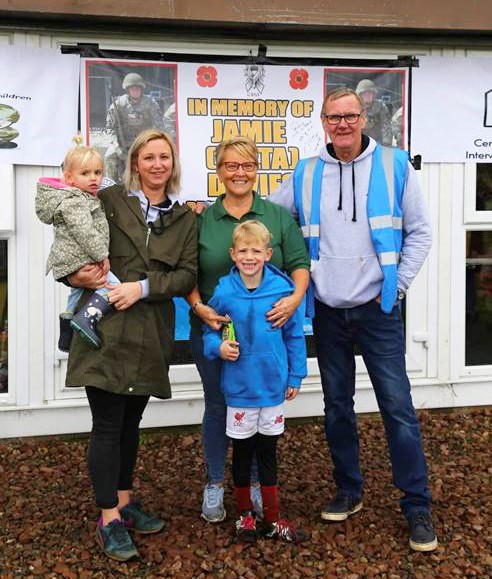 On the day, four teams took part in a football tournament in Jamie's honour with collection buckets encouraging attendees to donate their spare change. The event, which took place at Lanark Rugby Club, finished with a raffle and auction with the proceeds going to charity.
Founded by war widow Nikki Scott, Scotty's Little Soldiers is a national charity which provides support to children across the UK who have lost a parent who served in the British Armed Forces. The charity was set up in memory of Nikki's husband and father to her two children, Corporal Lee Scott, after he was killed in Afghanistan in 2009.
Father of Jamie, Robin Hutton, was one of the event organisers and commented:
"We want to thank everyone for their continued love and support. Our purpose was to keep the memory of Jamie alive and we did just that.

"The selected charities mean a lot to us so a huge thank you goes to those who took part in the tournament and to anyone who donated. Scotty's Little Soldiers has been truly fantastic for Archie and Eilidh and has helped them through tough times over the past year – we're enormously proud of the amount we have raised with donations still coming in."
Scotty's founder Nikki Scott witnessed first-hand the impact losing a parent had on her young children. It was following the death of her husband and father to her two children, Corporal Lee Scott, in July 2009 that she set up Scotty's Little Soldiers. The charity currently supports 396 bereaved Forces children across the UK, offering integral support when they need it the most.
Nikki said:
"On behalf of Scotty's Little Soldiers I want to say a huge thank you to the organisers of the Jamie Delta Davies Memorial Day, which looked like a special event. Memorial days are never easy but it's always amazing to see how much someone meant to people, and the amount of love that people show on these difficult days is incredible. Archie and Eilidh are part of the Scotty's family and we are proud to have them as members."
To learn more about how you could help Scotty's Little Soldiers visit: http://scottyslittlesoldiers.co.uk/
Notes to editors
To speak to a member of the Scotty's Little Soldiers team, please contact Scotty's national PR agency: Claire Lomax (claire@wolfstarconsultancy.com), Chris Grayson (chrisg@wolfstarconsultancy.com), Rochelle Tattersall (rochelle@wolfstarconsultancy.com) or 0113 273 7816.
 About Scotty's Little Soldiers
Scotty's Little Soldiers, founded in 2010, honours Corporal Lee Scott's memory – both as a loyal soldier and a loving father – and provides a practical yet personal way for the public at large to show their appreciation for those brave individuals who make the ultimate sacrifice in the service of their country. Currently Scotty's Little Soldiers supports 396 bereaved children and runs a variety of programmes to help children smile again and look forward to a brighter future. You can visit the charity online at http://www.scottyslittlesoldiers.co.uk/