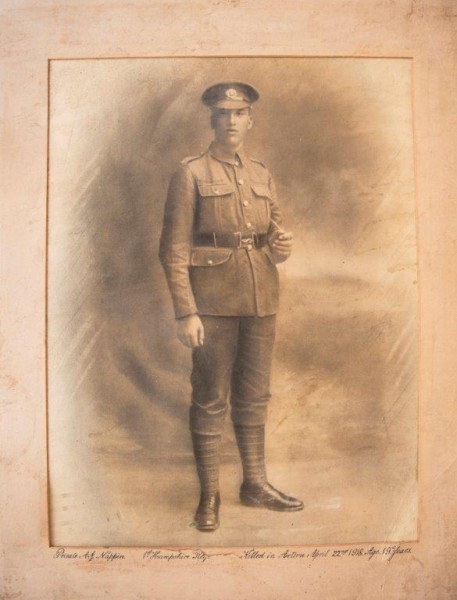 The Royal British Legion's South East Midlands Team, based in Aylesbury, is appealing for anyone in the area to come forward if they are related to Private Arthur John Nappin, as they have an original photograph they would like to return.
Killed in action in April 1918 in Flanders, Arthur Nappin was born in Aylesbury on 7th January 1899 and was a son to Robert and Elizabeth Nappin who resided in Castle Street in the town. Arthur also had a brother, Sergeant William Nappin, who was killed in action in October 1916.
Announced in the newspaper on 11th May 1918, Arthur, who was part of the 1st Hampshire's was ordered 'over the top' and was hit as they reached their first objective. However, it also reported the attack launched by the battalion had been a success overall.
The Royal British Legion team are seeking to find out more about the Nappin family and are calling on locals to come forward to their local Pop In Centre on the High Street in Aylesbury.
Lee Lawson, Membership Support Officer, said: "We came across the information about Private Arthur Nappin and his photo we would really like to hear from anyone who can basically fill in the blanks about his story and a family member to whom we can return the picture. 2018 will mark a century since the end of the First World War and we want to remember those locally who gave their lives."
If you can shed light on the WW1 soldier visit the Pop In Centre on High Street Aylesbury or contact Lee Lawson on LLawson@britishlegion.org.uk