A woman from St Annes in Lancashire came third in a virtual 215 mile ultra-marathon, crossing the finish line after 70 hours and raising over £3,000 for the charity that supports blind and partially sighted veterans, Blind Veterans UK.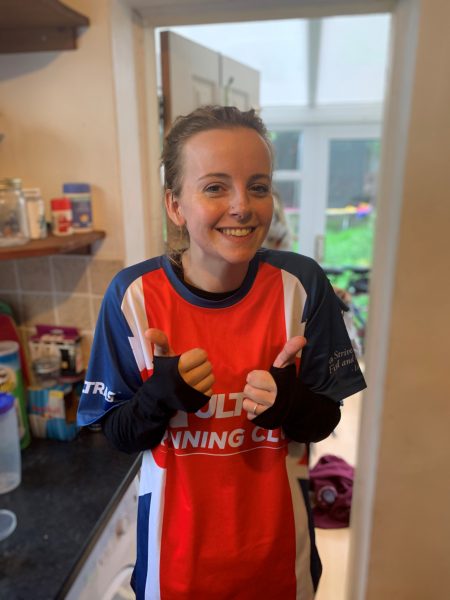 28-year-old Star Bickerstaff was originally running to fundraise for potentially lifesaving stem cell treatment for her Army veteran father who had Multiple Sclerosis (MS), Paul. Sadly four weeks ago Paul passed away and Star had reservations about whether she would take part in the race or not.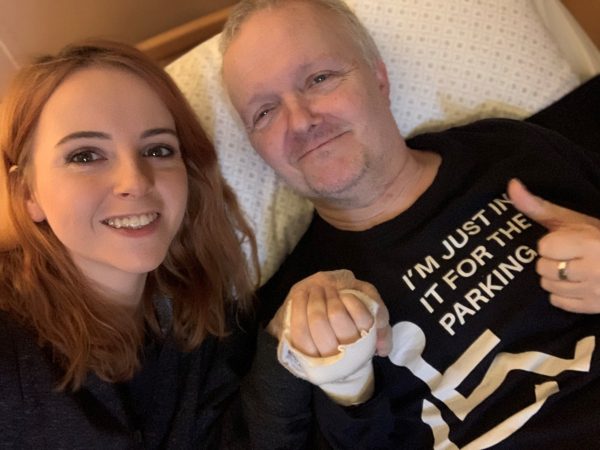 Star says:
"My dad was so supportive of my running. He wanted to frame my first 200 race shirts! When he died I considered dropping out but I knew that he wanted to see me cross the finish line so I decided to do it for him."
Star completed the Ultra Great Britain virtual race on Tuesday 14 July, exactly three weeks after Paul had passed away. The 215 mile race was originally due to take participants across the width of Scotland before being made virtual because of Covid-19. Star completed the race on a treadmill in her conservatory, using a Garmin tracking device to alert race organisers of her progress.
She says:
"The hardest moment was on the final night. I hadn't slept in three days and I couldn't get any food down me. Then I realised that when I finished it would be the three week anniversary of dad's passing. I got very emotional but I just did what I always do and think of the end goal and that got me through."
Star decided to donate the money she raised to Blind Veterans UK, who had supported Paul to adapt to life with sight loss. She says:
"I was initially sceptical when they got in touch as it was only my family that had cared for dad at that point. But we went down for a week at their rehabilitation and training centre in Llandudno and I was blown away.

"The care they showed my dad was just amazing to see. Dad was a talented painter before the onset of his MS and we never thought that he would be able to paint again. Well Blind Veterans UK taught my dad how to paint using his mouth so after 20 years he was able to paint again. He'd also always wanted to write a book but couldn't use a computer so Blind Veterans UK taught him to write using buttons on his wheelchair. They literally helped in any way they could. I can't thank them enough for the care and support they gave my dad and that is why all money raised will be going to them.

"I know my dad would be happy with the decision. Not only did he receive support but he also saw the way they supported other blind veterans who often didn't have the family support system that he did. They're often lonely and isolated but when they get down to one of Blind Veterans UK's rehabilitation centres they are made to feel like the most important person in the world and they go home feeling like they mattered. Dad really recognised that and used to tell me all the time."
Star begun her extreme running challenges after missing out on a spot in the 2016 London Marathon and consequently signing up for the Jurassic Coast Challenge – three marathons in three days. She plans to level up her challenges in the future while still raising money for Blind Veterans UK. Next up is an 885 mile race called 'Joggle'. She has so far raised £3,000 of her £40,000 target. To help her hit her target please visit her Go Fund Me page here: gofundme.com/f/2gg8zd8
Blind Veterans UK has adapted its service to support its 5,000 beneficiaries, 90% of whom are over 70 and at an increased risk from Covid-19. The National Support Service will help blind veterans through this period of social isolation.
Nicky Shaw, Blind Veterans UK Director of Operations said:
"Living in isolation, blind veterans need our help right now with daily tasks, such as the shopping, and constant emotional support through this difficult time. So we are temporarily changing our service and mobilising our staff to provide practical, essential support to help the most vulnerable.

"There is so much that we can and must do to support blind veterans to help them maintain physical and emotional wellbeing, and to feel safe, reassured and cared for during this crisis."
You can keep updated on Blind Veterans UK's response to Covid-19 at blindveterans.org.uk/coronavirus where you can also find out more about supporting the charity to make this new service possible.