"Looking out to starboard, I saw a flotilla of orange life rafts and having selected my target raft, slid down the side and entered the water."  
Chris Howe, HMS Coventry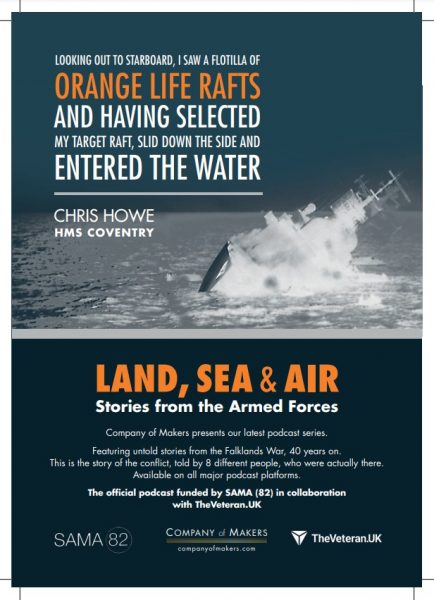 Land, Sea & Air: Stories from the Armed Forces, is a podcast produced by Portsmouth based Company of Makers (CoM), a social enterprise that exists to support ex-Service personnel struggling on Civvy Street.
To mark the anniversary of the Falklands War, CoM have released an 8 part Falklands Special where we hear untold stories from the war, 40 years on.
Hosted by former submariner Mike Davis-Marks and CoM co-founder Steve Bomford. This is the story of the conflict, told by 8 different people, who were actually there:
Ep1:     British Sovereign Territory has been Invaded by a Foreign Power
"For the last 40 years, we've been trying to get the truth told about what happened on the day that it all kicked off, 2nd April 1982."
This is the true story of the Royal Marines, NP8901.
Ep2:     The Dockyard is a Worker of Miracles
"The First Sea Lord… decreed that HMS Hermes was under just 72 hours' notice to sail…"
This is the story of the dockyard workers who rose to that challenge.
Ep3:     It's a Strange Thing is War
"You've got the battles, then you've got the humanitarian side… It's a strange thing is war…"
This is the astonishing story of how a North Sea passenger ferry and her civilian crew, Served in the thick of the firing, bombs and air attacks of The Falklands.
Ep4:     You Really Wanted to Do Your Bit
"We needed to do something and Goose Green was the something that we did."
This is the story of 2 Para.
Ep5:     The Silent Service
"…we had the unenviable task of having to sink The Sir Galahad…as a War Grave…When the torpedoes were fired, there was just complete silence…"
Imagine having to sink your own ship. We hear the poignant story of HMS Onyx, the only diesel-electric submarine that Served during the war.
Ep6:     None of Us Believed it Would Really Happen
"The mood was fairly relaxed heading south…then Sandy Woodward briefed us… 'Look around amongst us because we might not all go home together…'"
We hear the story of HMS Coventry's helicopter team.
Ep7:     A Dull Thud, Extreme Heat, a Flash, a Fireball
Chris Howe was deep down inside HMS Coventry, D118, "…we'd been hit…next thing I knew…I'm coming round…my right arm was on fire…water was coming in…fires all around…thick black smoke…"
Ep8:     My House was Searched at Gun Point
Falkland Islander, Carol Phillips, had 3 small children, "My first thought was…'Are they going to…machine gun us all down?'" My Dad…kept saying, 'Don't let them see you're scared…The British Bulldogs are on their way.'"
This is the official podcast funded by the South Atlantic Medal Association, SAMA (82).
Available on all major podcast platforms, for free, on demand: https://podcasts.apple.com/gb/podcast/land-sea-air-stories-from-the-armed-forces/id1513953407
Company of Makers would love to hear from you: steve@companyofmakers.com