A £560-million contract to manage the UK Defence Training Estate, on which thousands of Armed Forces personnel live, work and train, has been awarded to Landmarc Support Services (Landmarc) by the Defence Infrastructure Organisation.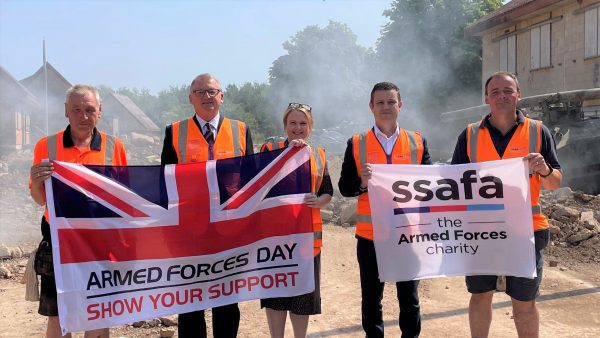 Landmarc provides the facilities management, rural estate management and operational services across the 156,000 hectares that make up the UK Defence Training Estate, and is a long-term Corporate Friend of SSAFA, the Armed Forces charity.
With the announcement, Landmarc has promised its continuing support to SSAFA for the duration of the seven-year contract.
More than 25 per cent of Landmarc's employees are made up of personnel with an Armed Forces background. The organisation has supported SSAFA since 2019, in particular taking on mentoring roles within the charity to support those leaving the Armed Forces. Landmarc is also a main sponsor of SSAFA's Wellbeing Conference for mentoring service volunteers, and its staff have also held several fundraising events.
Colonel Stephen Oxlade, a Trustee of SSAFA and late the Gloucestershire Regiment, visited Landmarc's HQ at Westdown Camp, Wiltshire earlier in the summer to observe Armed Forces Day with the company.
Commenting on the renewed partnership with Landmarc, Col Oxlade said:
"The journey from a Forces' life into the civilian world presents challenges as any major life and career change might.

"However, the funding provided by Landmarc to SSAFA's transitional mentoring scheme makes a real and practical difference to serving men and women as they leave the Armed Forces, and I am delighted that our long-standing relationship with Landmarc will continue."
Managing Director at Landmarc, Mark Neill, added:
"On the back of the recent Training Estate Support contract announcement, Landmarc has pledged its continued support to SSAFA for the duration of the seven-year contract.

"This is something we are very proud to do – as a company that strives to support the day-to-day work of the Armed Forces and aims to continue that support even after they leave, SSAFA is a charity that is very close to all our hearts."
SSAFA is the UK's oldest tri-service charity. Since 1885, it has supported serving and former personnel of HM Armed Forces and their families. For information, including how to access services or become a Corporate Friend, visit ssafa.org.uk.