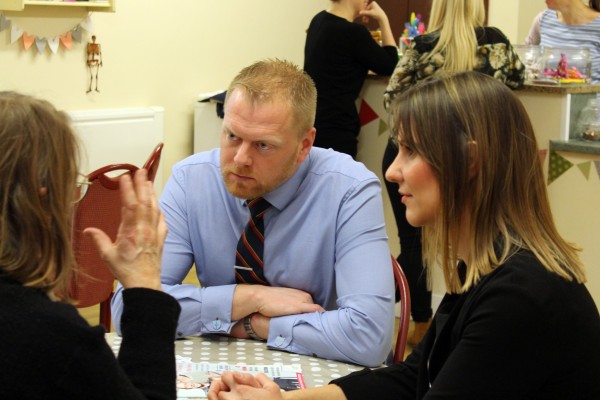 The Army Families Federation (AFF) recently launched its latest initiative in support of spousal employment in partnership with workforce experts Manpower, giving Army families in the Salisbury Plan area of Wiltshire the chance to access employability advice and support free of charge.
FREE, friendly support
The first session held on the 9 February, was a huge success with one spouse who attended, already being successful in securing a job. Further sessions will feature a range of CV help, guidance on approaching the job market, career profiling and interview techniques, as well as access to live jobs.
AFF's Employment, Training, Money and Allowances Specialist Laura Lewin explains: "We are really pleased with how our first session has been received, but we want even more families to come along and get involved. The sessions we're providing with Manpower tackle a wide range of barriers to employment – all in one place. It's never been easier to access the support needed to give your career a boost."
Rhys O'Leary, Consultant at Manpower said: "It has been fantastic here today. I'm privileged to be able to give back to the Armed Forces community. Having served for 15 years myself, I understand some of the pressures that Armed Forces spouses and other family members are under and I really look forward to helping these individuals kick start their employment search."
Here to help
The sessions are designed to empower spouses and partners to be more pro-active in their approach to employment and training, providing them with the skills and confidence they need to access the employment they want. All are welcome, whatever stage you're at in your career; and consultants, Manpower trainers and AFF staff will all be on-hand to help.
Follow up sessions will be held at the Beeches Centre, Bulford, between 9.30am and 12.30 on:
23 February
9 March
6 April
27 April
11 May
25 May
Sessions are designed to be family friendly – children are welcome to attend.
Find out more
AFF is hoping for the continued success of this campaign, leading to a possible roll out to other areas in the future. To find out more about the employment and training support AFF can offer you, email etam@aff.org.uk or to find out more about the Manpower sessions, head to http://www.aff.org.uk/latest_news_information/index.htm#employabilitysessions
ENDS
Notes to Editor:
The Army Families Federation (AFF) is the independent voice of Army families: Regular or Reserve, wherever they are based, whatever the make-up of their family.
Throughout the UK and overseas, AFF works hard to achieve policy change and progress in favour of Army families; they offer advice and guidance on all aspects of Army life, confidentially and in an easy-to-digest way.
They work with other agencies such as MOD, government, charities and other key players to strengthen their cause and fight for a fair deal for families everywhere.
Their family-focussed website (aff.org.uk) contains information about all aspects of Army family life, and their Facebook, Twitter and Instagram pages offer families another easy way to contact us, interact or simply follow the work we are doing.
AFF operates by four core values, which are pivotal to our work. These are:

AFF always puts families first
AFF can be trusted
AFF is bold and determined
AFF is inclusive

Learn more about Manpower at manpower.co.uk
Media Contact:
For more information about AFF's work in support of spouse employment and training, contact Sarah Bowie, AFF Comms & Marketing Director, at commsmarketingdirector@aff.org.uk