The Armed Forces Covenant Fund Trust has awarded two grants worth £140,000 to veterans' charity Launchpad, as part of its Positive Pathways programme.
The charity provides accommodation and support to help veterans stabilise their lives and make a successful transition from military to civilian life.
Launchpad was successful in securing two of the 36 grants which were awarded in the first round of the programme as part of the Veterans' Mental Health and Wellbeing Fund. In total, over £2.5m was awarded with each beneficiary receiving a grant worth £70,000.
The two grants will be allocated to two of Launchpad's houses to benefit resident veterans. The charity provides 32 self-contained one-bedroom flats at Avondale House in Byker, Newcastle and 48 self-contained flats at Speke House in Liverpool.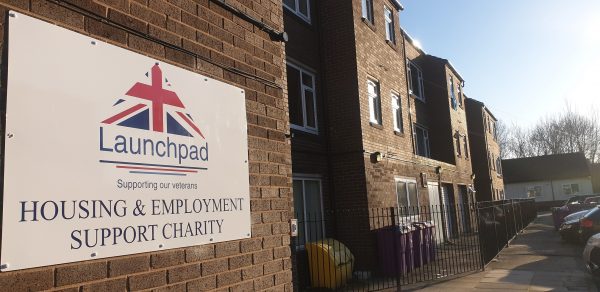 A diverse programme of mental health and wellbeing activities will be delivered to resident veterans living at Avondale House, which is located on the iconic Grade II* Listed Byker Estate. Veterans who have moved on from Avondale House will also offer peer-support.
At Speke House, the grant will provide outdoor wellbeing activities for 150 current and previously homeless veterans in Liverpool. Participants will grow vegetables and raise poultry at two allotments as well as creating a sensory garden to help veterans overcome PTSD (Post-Traumatic Stress Disorder) and depression. Veterans will also be able to take part in veteran-organised outdoor sports.
The Veterans Mental Health and Wellbeing Fund has two programmes, the Positive Pathways Programme and the Strategic Pathways Programme. During the 2018 Autumn Budget, the Chancellor announced £10m to support Veterans' Mental Health and Wellbeing needs.
David Shaw, CEO and Founder of Launchpad, commented: "Launchpad encourages residents to participate in projects that will not only support their mental wellbeing but also help the local community. Taking part in social, sporting and skills activities brings enjoyment, develops positive and helpful approaches.
"All residents will benefit from these grants but in particular, those residents living in both our houses who have mental health issues, ranging from anxiety to service and non-service-related PTSD while some need help with addictions; these residents will benefit particularly.

"We are very grateful to the Armed Forces Covenant Fund Trust for awarding these grants to Launchpad, which will help our residents in a diverse range of programmes over the next two years."
Last year, Launchpad supported 157 veterans across both houses and has helped 455 veterans since 2013. 80-90% of residents who go to Launchpad are homeless.
For more information on this press release, please contact Craig Downs from Up North Communications on 0191 300 0810, 07811 287 922 or email craig@upnorthcommunications.co.uk
Photo caption: Veterans' charity, Launchpad has received two grants worth £140,000 from The Armed Forces Covenant Fund Trust, as part of its Positive Pathways programme.
Notes to Editors:
AF&V Launchpad is a registered Charity Number 1153185 and Company Number 8633047.
For more information about Launchpad, please visit www.veteranslaunchpad.org.uk
Launchpad welcomes donations to support its veterans, through its website
Key partners that Launchpad work with are: Liverpool City Council, Newcastle City Council, Big Lottery, ABF The Soldiers' Charity, Royal British Legion, Veterans' Foundation, Forces
Employment Charity, Addaction, Crisis Skylight, the NHS, SSAFA, Speke Training and Education Centre and Combat Stress, among many others.
Achievements in the last year have been as follows:
At the end of September 2019, the total number of veterans helped since Launchpad opened in 2013 is 455.
42% of residents leave Launchpad with jobs.
69% successfully move on to settled accommodation, either living independently, reunited with family or with the support they need.
Launchpad won the 'Working Together' award in the national 'Soldiering On Awards' and two founders were awarded the Prime Minister's 'Point of Light".
Launchpad won The Veterans' Foundation award at the Heropreneurs Awards 2019.