Launchpad's Speke House in Liverpool has moved a step closer to employing a full-time mental health support specialist after receiving a second donation of £5,000.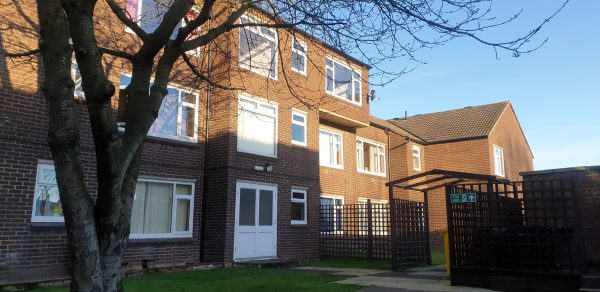 Last week, we announced that £5,000 was donated by The Edward Gostling Foundation and now healthcare cash plan provider, Medicash has matched that by donating another £5,000.
Medicash has donated the money from its Foundation, which makes regular donations to health-related charities in the UK and has given away over £1 million in the last 10 years.
Due to the pandemic, veteran residents living at Speke House have not been able to access face-to-face mental health support which has been detrimental to their health and wellbeing.
Many of the residents living at Speke House have mental health issues, ranging from anxiety to service and non-service-related PTSD (Post-Traumatic Stress Disorder). Some need help with addictions to alcohol and drugs.
Prior to Covid-19, residents accessed face-to-face mental health support from NHS service, Talk Liverpool, but since lockdown in March, waiting lists have increased and Talk Liverpool is now only offering support via telephone or video.
Sam Jackson, Manager of Launchpad's Speke House said:
"Our residents have come from street-homeless backgrounds and have lived chaotic lives. The current arrangements are not working and residents have told us they need face-to-face support.

"We have seen a significant impact on our residents' mental health as a result of the new arrangements and although our staff are available and do their best to support our residents, we do not have the specialist skills required to help them."
Sanctuary Family Support from Liverpool, provide free, weekly confidential advice and one-to-one support to residents which is proving to be very effective however, only six of the current 42 residents living at the home can access the service to support them with addictions.
Employing a full-time mental health support specialist will benefit all residents living at the scheme and enable the charity to provide the one-to-one support they desperately need, but in a safe environment with social distancing measures observed.
Sam continued:
"Since Covid-19, our residents' mental health has deteriorated. One resident with bi-polar disorder stopped receiving the face-to-face help he needed. As a result, his health worsened and unfortunately, he disappeared from Speke House in the middle of the lockdown and we have not heard from him since. Another resident experienced a significant breakdown and we had to involve crisis support. He is now recovering with our help, but only narrowly avoided being sectioned."
Employing an experienced mental health support specialist will help residents with the outcomes they were achieving before lockdown and when face-to-face support stopped. The charity will replicate the model delivered by Sanctuary but to the benefit of all residents on a full-time basis. The specialist will complement the service delivered by Sanctuary, which will continue.
Sam continued:
"We are delighted that Medicash Foundation have also donated £5,000, on top of the donation we very kindly received from The Edward Gostling Foundation. We are trying to secure additional funding to be able to cover the full costs of this post and have started to advertise the position so we can bring someone is as soon as possible."
Speke House is the city's largest veterans' accommodation facility providing safe, secure en-suite bedsits and flats for up to 48 veterans to help them stabilise their lives and make a successful transition from military to civilian life.
Since 2013, the charity, which also has a house in Byker, Newcastle upon Tyne, has supported 490 veterans. In a typical year, 67% successfully move on to settled accommodation and pre-pandemic, 42% leave in paid employment.
This year, those numbers have fallen due to the Covid-19 pandemic, as employment opportunities are harder to find and recovery rates have slowed due to difficulties in getting veterans the support they need.