A charity which provides accommodation and support to homeless and unemployed veterans living in Newcastle has received a donation of £3,660.86 by a community choir.
The donation was presented to Launchpad by members of North-East community choir, Sing United who held a special 'Lest We Forget' sell-out concert in Whitley Bay, Tyneside on Sunday 10 November as part of Remembrance Sunday.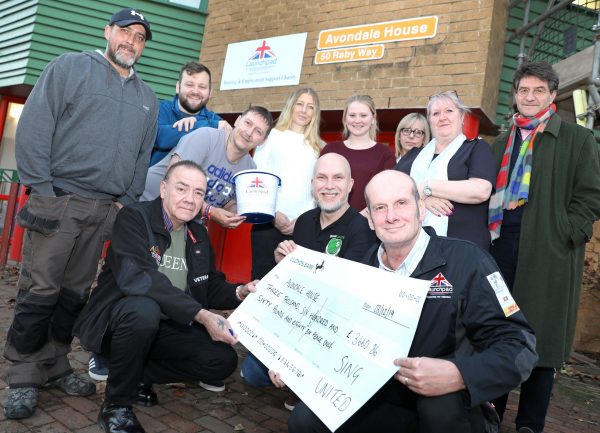 The 150-voice choir and five-piece band is the brainchild of musical director Mark Deeks to capture the positive potential of people and music by bringing them together to sing and create a fun environment for all.
Sing United's passion is to support local community groups through songs of meaning and chose veterans' charity Launchpad for this very special concert, which was held at the Whitley Bay Playhouse.
The choir fundraise for local causes and collected £3,660.86 in donations, bringing their cumulative total since it was established 18 months ago to a staggering £11,500 for local causes.
Members of the choir made crafts and held raffles, and donations were collected at pre-event performances held at Eldon Square in Newcastle, at Sunderland's Mowbray Park and on the evening of the performance.
The concert sold out two-weeks before performance and even had a waiting list for tickets due to the popularity of the show. The purpose of holding the concert on Remembrance Sunday was to sing songs that spoke out about the horrors of war, pause for reflection, pay tribute or simply remember those who gave their lives. The choir sang classic anti-war anthems from Marvin Gaye and George Harrison alongside tales of American conflicts by artists such as Bob Marley and Johnny Horton and there was also a special 'Songs For England Medley'.
The money raised will contribute towards the provision of furniture packs to help the veterans when they move into their homes. The charity provides 32 self-contained one-bedroom flats at Avondale House on the iconic Grade II* listed Byker Estate in Newcastle.
Accepting the cheque on behalf of Launchpad was Phil Thompson, Manager of Launchpad's Avondale House. He said
"We are forever grateful to organisations and voluntary groups like Sing United who give up their time to help raise funds for our veterans.

"This donation means so much. A lot of veterans come to us with literally nothing but the clothes on their backs, so to be able to move into a furnished property takes away some of that stress.

"I attended the concert with some of my staff and residents and I have to say, it was truly heart-warming – such a fantastic performance and everyone should be very proud of their achievements. The performance was very much welcomed by our veterans."
Mark Deeks, Sing United Musical Director, said:
"The whole idea behind Sing United was to have multiple layers to what we could achieve as a team: the music with meaning gives huge enjoyment to both our singers and followers, but adding the aspect of being able to support important causes in our local community adds a whole new layer of both emotion and pride. We're delighted to have been able to support our friends at Launchpad with this donation."
Each term, Sing United chooses a different charity or cause for their concerts to support. Every project features music and messages made in or about the North East. Their next performance will be Emergency Planet Earth on Saturday 21 March 2020 at the People's Theatre in Newcastle. The performance will feature music from Jamiroquai, Louis Armstrong, Imagine Dragons, Woody Guthrie, Sonata Arctica and Neil Young.
For more information on this press release, please contact Craig Downs from Up North Communications on 0191 300 0810, 07811 287 922 or email craig@upnorthcommunications.co.uk
Notes to Editors:
AF&V Launchpad is a registered Charity Number 1153185 and Company Number 8633047.
• For more information about Launchpad, please visit www.veteranslaunchpad.org.uk
• Launchpad welcomes donations to support its veterans, through its website
• Key partners that Launchpad work with are: Liverpool City Council, Newcastle City Council, Big Lottery, ABF The Soldiers' Charity, Royal British Legion, Veterans' Foundation, Forces Employment Charity, Addaction, Crisis Skylight, the NHS, SSAFA, Speke Training and Education Centre and Combat Stress, among many others.
Achievements in the last year have been as follows:
• At the end of September 2019, the total number of veterans helped since Launchpad opened in 2013 is 437.
• 42% of residents leave Launchpad with jobs.
• 69% successfully move on to settled accommodation, either living independently, reunited with family or with the support they need.
– Launchpad won the 'Working Together' award in the national 'Soldiering On Awards' and two founders were awarded the Prime Minister's 'Point of Light".
– Launchpad won The Veterans' Foundation award at the Heropreneurs Awards 2019.