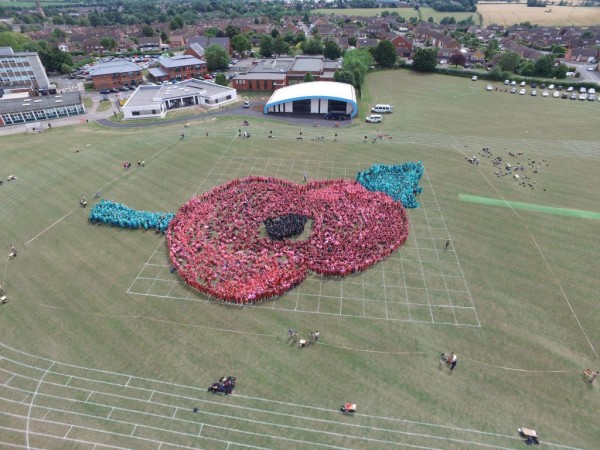 Royal British Legion care home, Galanos House, has beaten a current Guinness World Record by creating the world's largest human flower, forming the shape of the Legion poppy of course!
Located in South Warwickshire, Galanos House has celebrated its 50th anniversary by inviting its residents, staff, volunteers, families and the local community to be part of history by creating a giant human poppy.
Participants included local schools, Legion branches, the Women's Institute, the Scouting movement and many others, came together at the Southam College to beat the current record of 2297 participants. The event was a huge success with the final total of participants 2609 – beating the record by 312! Guinness is in the process of verifying the record-breaking attempt to confirm the 'official' record.
Jo-Anne Wilson, Care Home Manager, said: "We've had an incredible response to the 50th anniversary celebrations and we are absolutely thrilled to have set a new world record and mark a milestone year with a fantastic event, we look forward to Guinness World Records adjudicating our result,"
Fifty years ago, in South Warwickshire, The Royal British Legion used a generous donation to lay the foundation of a retirement home for ex-servicemen and women. Today, this award-winning home still carries the name of its benefactor, Christos Galanos and cares for over 60 residents and has a specialist dementia care unit, Poppy Lodge, which opened in 2011 and cares for an additional 30 residents.
Jo-Anne added: "We are very grateful for the support the local community has shown us over the past fifty years and look forward to the next fifty years! At Galanos we take pride in delivering outstanding excellence when it comes to care, and providing a happy, vibrant and close community within the home for each and every resident."
Galanos House is one of six Royal British Legion care homes that provide short and long-term care for serving and ex-Service people and their dependents. Situated around the country, they offer a wide range of services including four specialist dementia care units. To find out more information visit www.britishlegion.org.uk