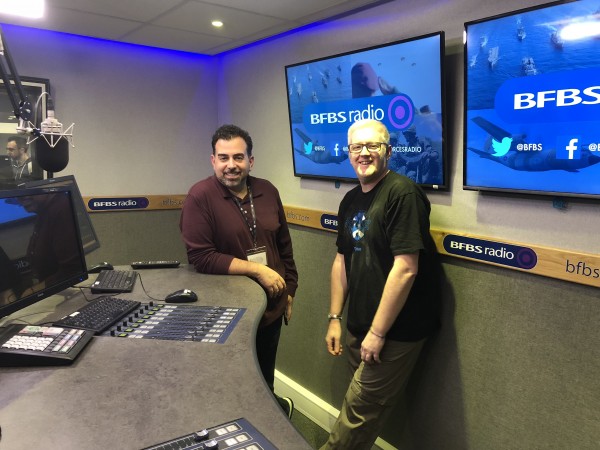 An Original Music Special for Forces Radio BFBS
Legendary House DJ and producer Lenny Fontana has recorded an exclusive two-hour music special for Forces Radio BFBS.
Fontana shares personal anecdotes about his life and career with Forces Radio BFBS Producer, Neil Moore, starting with his formative years in New York when he absorbed a diverse range of music.
Fontana says: "It was one of the deepest and most candid interviews I was ever asked to be a part of. A very proud moment to share my history and personal experiences."
The soundtrack to this unique programme weaves through the early sounds of Philly and the Disco era, then follows Fontana's DJing years during the House music of the 80s and 90s, and onto the launch of his Karmic Power Records label in 2013.
"Spending time with someone who has had such an amazing and varied life within the dance music industry and being able to share that story was a true privilege," says producer Neil Moore. "I challenge anyone not to get drawn in to Lenny's amazing story telling and a musical soundtrack that's second to none."
Join Neil Moore for Lenny Fontana's House Sound of New York on Friday 22nd June from 7pm (UKT) and then on www.forces.net/radio/ondemand
Forces Radio BFBS is available in the UK on FM, DAB, DAB+, via the BFBS Radio app, on Sky 0211, Freesat 786 and catch up or listen again via www.forces.net.
Note to Editors:
For more information contact Mikaela.Roche@bfbs.com.
The Forces Network is part of the Services Sound & Vision Corporation (SSVC), a military charity that informs, entertains, connects and champions the Armed Forces. SSVC also includes:
FORCES RADIO BFBS
FORCES TECHNOLOGY BFBS
FORCES LIVE EVENTS (CSE)
FORCES CINEMAS
FORCES MEDIA ACADEMY
FORCES NEWS
FORCES SPORT
FORCES TELEVISION BFBS
FORCES TV
GURKHA RADIO BFBS
SSVC TRAINING
SSVC WELFARE
SSVC MEDIA INNOVATIONS
-Ends –