They are already part of a special team that performs super-human feats by producing millions of poppies each year for the annual Scottish Poppy Appeal. And on the day that around five million of the iconic symbols of remembrance begin their journey across Scotland in preparation for raising vital funds for leading Armed Forces charity Poppyscotland, two veterans from Lady Haig's Poppy Factory have revealed their quest to reach next year's Invictus Games.
As large trucks were loaded with poppies on a day known by the factory team as the "National Uplift", veterans Fraser Rowand and Alastair Skene announced their hope to put their poppy-making duties to one side for a week next May as they bid to join 500 fellow qualifiers from 19 nations for the 2020 Invictus Games, in the Netherlands. The Hague will host the event in which wounded military veterans compete in a Paralympic-style event.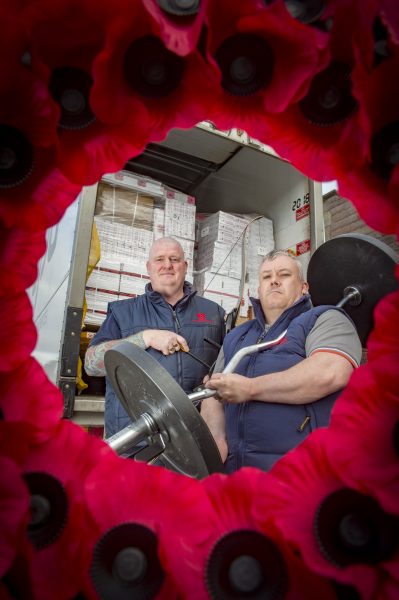 Fraser, 39, from Barrhead is a former Lance Corporal in the Scots Guards (from 2001 to 2013) and now works as a storeman in the famous factory. He is competing in the discus and powerlifting events, and said:
"National Uplift day is really important to everyone at the Poppy Factory.  It is the culmination of a year's hard work and marks the starting point of the annual Scottish Poppy Appeal. I know first-hand how important the work of Poppyscotland is and this year's Appeal is vitally important."
Speaking about his bid for Invictus glory, Fraser continued:
"I was motivated to compete after speaking to other veterans that I know that have taken part. I have really enjoyed the experience so far and was really happy with how I did down at the final trials in Sheffield. It was also great meeting so many of the other veterans there, too.

"Choosing the discus and powerlifting was completely spontaneous as I've never tried either of them before. I just said to myself: 'I want to give this a bash.' And I've stuck to it ever since. Even if I don't make it to the Games, I'll keep on with the discus and the powerlifting. They are both a lot of fun."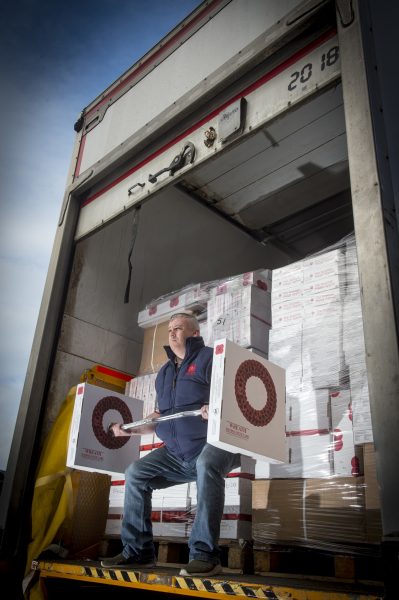 Alastair, also 39 and from Hawick, is a former Lance Corporal in the King's Own Scottish Borderers. He is focussing on archery having being referred at the start of the year to a club in Edinburgh where fellow veterans take part. Alastair said:
"Before I took unwell, I used to play a lot of sport and missed that, so it was great when I started to take part in archery once a week. It brought back a bit of excitement and that feeling of adrenalin, and I was surprised that I took to it very quickly.

"I got involved with the Invictus Games by accident after some of the guys in the factory mentioned it and I looked into it. I thought it was something I would like to do, but said to myself: 'This competition is too big for me!' However, I went for it and got my application in, and was surprised when I got an email inviting me to take part in the trials.

"It was nerve-wracking at the trials in Sheffield, but the fact I was competing gave me a real buzz. It was great to meet other veterans from all over the UK and to hear about the same sorts of problems and issues that I've gone through since leaving the Army."
Alastair is now playing the waiting game to find out if he will be invited to compete at the Games proper. He adds:
"Every day you are looking at the calendar knowing it's one day closer to finding out if you've made it. But, for me, it's not just about being selected – it's about progressing in your chosen sport and the best thing for me is that every week I am getting better."
Charlie Pelling, Manager at Lady Haig's Poppy Factory, said:
"Alistair, Fraser and all of us at Lady Haig's Poppy Factory are proud to be associated with this important day. The National Uplift is the end point of 12 months' work and marks the moment when Poppy Appeal 2019 becomes a reality, as we ship all of the poppy orders to the vast army of amazing volunteers, who in turn will deliver this year's Appeal for Poppyscotland.

"However, it's a particularly special occasion as we salute Fraser and Alastair for their respective bids to qualify for the UK Invictus Games squad. They have both trained and worked very hard to get this far and we wish them the very best of luck when it comes to finding out if they have been selected to compete at The Hague. We have a very special team of veterans at the factory who work tirelessly all-year-round to ensure that everyone who chooses to do so can wear a poppy with pride."
Next year's Invictus Games will be the fifth staging of the event, which has previously been held in London, Orlando, Toronto and Sydney. Speaking last year when the venue was announced, Prince Harry, who founded the Games, said:
"The city will soon become the motivation for hundreds of Servicemen and Servicewomen."
Gordon Michie, Head of Fundraising at Poppyscotland, said:
"The National Uplift is a major milestone for us. It takes a remarkable effort by all of the disabled veterans to get us to this point, and it means our biggest fundraiser is just around the corner. We are sure the public will once again show their support in buying and wearing their poppy, which will enable us to provide even more vital, life-changing support in the coming year. Our Armed Forces community need to know that we are behind them, always.

"As the poppies and tins begin their long journey across the country, we must also pay tribute to the army of volunteer Area Organisers and collectors who will be working tirelessly over the coming month. Without their commitment and dedication, the Scottish Poppy Appeal simply could not happen."
The Scottish Poppy Appeal is Scotland's largest annual street collection. Around five million poppies and 60,000 collecting tins are distributed around Scotland ahead of the event in October and November. Around 10,000 volunteers get on board to do their bit for the cause.
Money raised from the Poppy Appeal – and Poppyscotland's year-round fundraising – enables the charity to deliver support to members of the Armed Forces community in Scotland by providing tailored funding and assistance. It is hoped that interest surrounding the Centenary Poppy will encourage the public to dig deeper this year, which will, in turn, provide a further boost for the life-changing support provided by Poppyscotland to the Armed Forces community in Scotland.
Notes to Editors
For further information and all media enquiries, please contact David A. Findlay, PR Manager at Poppyscotland, on 079797 35611, or email at d.findlay@poppyscotland.org.uk.
Pictures are free to use, and further images of both competitors are available upon request.
Please credit: M Owens/Poppyscotland. Additional caption information: Alastair has tattoos on his arm; also pictured is their colleague, Tam McPhillips, who is a Poppy Maker.
For more information about Lady Haig's Poppy Factory please visit www.ladyhaigspoppyfactory.org.uk.
For more information about Invictus Games 2020, please visit invictusgamesfoundation.org/games/the-hague-2020/, or, for general enquiries, please email: info@invictusgames2020.nl.
Poppyscotland provides life-changing support to the Armed Forces community. Money raised from the Scottish Poppy Appeal and Poppyscotland's year-round fundraising enables them to deliver support to members of the Armed Forces community in Scotland by providing tailored funding and assistance. The charity also funds services in advice, employment, housing, mental health, mobility and respite. Please note that we are known as "Poppyscotland", and not "PoppyScotland" or "Poppy Scotland". For more information, please visit us at: www.poppyscotland.org.uk.