SSAFA, the Armed Forces charity celebrates LGBT Adoption Week with an Outstanding Ofsted report, which praises the inclusive nature of the SSAFA adoption service.
The Ofsted report stated:
"The agency is inclusive and, in the past two years, has increased its same sex couple recruitment to 45 per cent of all recruited families. The leaders and managers promote equality and diversity".
The SSAFA adoption service has worked hard to change misconceptions of not only military families, but also LGBT couples. Research commissioned by SSAFA in 2019 showed that just over 3 in 10 Brits would describe a military parent as 'regimented' or 'strict' and a shocking 1 in 12 Brits think that being in a transgender couple would disqualify you from adoption.
The Ofsted report reiterated the drive to change misconceptions,
"The agency has consistently raised the profile of military families and works hard to break down myths and stereotypes associated with these families"
SSAFA has been a registered independent adoption agency since 2000 and was developed to counteract the difficulties faced by some serving personnel looking to adopt. While many members of the Armed Forces can adopt via their Local Authority, some adoption agencies do not accept applications from serving personnel due to misconceptions about the military lifestyle. SSAFA are the experts in military adoption and understand the complex demands of military life. SSAFA has worked successfully with individuals and couples from all service backgrounds to create loving families.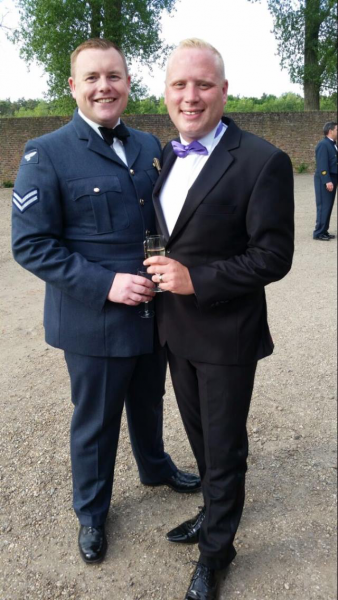 Over the past three years, SSAFA has seen a huge increase in same-sex adoptions, and has approved eight LGBT households. 11 children have been placed with these families so far.
Ashley Oldroyd-Clarke and his partner, Keiren, adopted their five year-old son through SSAFA's Adoption Service. Serving in the RAF, Ashley had been unsure whether his military background would be understood by Local Authority Adoption Service.
Turning to a specialist agency was a natural next step for Ashley and Keiren:
"Once we spoke to SSAFA, everything started to fall into place. It meant so much to be welcomed as a loving potential family for a child in need, instead of seeing circumstances as barriers. People often forget that family life in the military is an exciting and nurturing environment – living behind the wire doesn't make a family any less caring. It took SSAFA's expertise to help us find the final piece of our family puzzle and we have never looked back!"
Jill Farrelly, Head of SSAFA's Adoption Service, said:
"SSAFA is incredibly proud of the developments that have been made to increase diversity and inclusion within its adoption service, and is incredibly honoured that Ofsted has picked up on this work.

"Creating a culture of inclusivity has been a main priority for SSAFA and it's amazing to see that the proactivity of SSAFA's Adoption Service has encouraged more same sex couples to use our service."
If you or someone you know is currently serving and would like to adopt, encourage them to get in touch with SSAFA, the Armed Forces charity. To find out more, visit www.ssafa.org.uk/adoption
ENDS
Notes to editors
About SSAFA:
SSAFA, the Armed Forces charity, has been providing lifelong support to our Forces and their families since 1885. Last year our teams of volunteers and employees helped more than 82,000 people in need, from Second World War veterans to young men and women who have served in more recent conflicts, and their families. SSAFA understands that behind every uniform is a person. And we are here for that person – any time they need us, in any way they need us, for as long as they need us.
About the survey:
The research was conducted by Censuswide, with 2,022 general consumers aged 16+ in the UK between 28.08.2019 – 02.09.2019. Censuswide abide by and employ members of the Market Research Society which is based on the ESOMAR principles.