A man from Lincolnshire has completed a 200 mile walking challenge from the Lake District to his home in Louth and raised a total of £554.20 for Blind Veterans UK.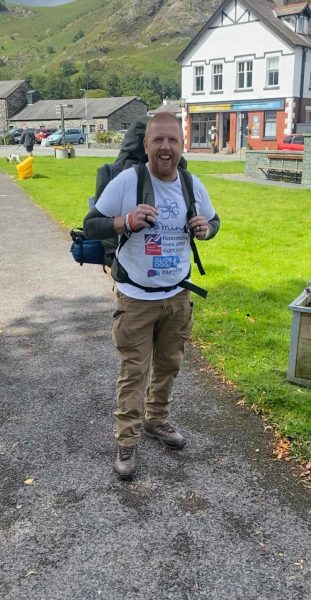 Stacey Whitworth, 46 and from Louth, decided to set himself the challenge when all the other charity events he had planned to do this year were cancelled due to the COVID 19 pandemic. He says:
"I've supported the charity since 2013 and I have done many fundraising events for Blind Veterans UK such as the London to Brighton 100k. I missed doing something to test myself and charities need the support more than ever at the moment, so I came up with something which I could do safely at a distance and that would raise some much needed funds".
Stacey completed the challenge last month and has so far raised a total of £2,771.00 which was divided between five charities; Blind Veterans UK, Guide Dogs UK, Alzheimer's Society, MIND, and Papyrus. Stacey says:
"I did the challenge over 6 days and it was a very tough week! I did 40 miles a day and 20 miles on the first and last day. I was chased by cows and I got really lost at one point because it was very misty and I couldn't read my map properly! I really did enjoy it though and friends came to meet me along with way with tea and sandwiches. I had lots of messages of support from people from all over the UK. During the week, Chris Butler from Blind Veterans UK travelled 400 miles to come and thank me for doing the challenge – I was overwhelmed by people's kindness".
Stacey has been raising funds for Blind Veterans UK after he temporarily lost his sight when he was in an accident in 2013. He says:
"I was lucky to regain my sight. When I did, I started to read other people's stories about living with sight loss and Blind Veterans UK was mentioned a lot. I learnt about the vital support that they give to those that were in a similar position to me. A few months later, I did my first challenge for them, met so many people from the charity and have been raising money for them ever since".
Stacey is also hoping that this challenge will encourage others to follow in his footsteps. He says:
"Charities really need your help the moment and with so many organising fundraising events being cancelled, it's important that fundraisers come up with new ways to raise money safely. If I can do a challenge like this, so can you!"
Blind Veterans UK has adapted its service to support its 5,000 beneficiaries, 90% of whom are over 70 and at an increased risk from Covid-19. The National Support Service has and will continue to help blind veterans through this period of social isolation.
Nicky Shaw, Blind Veterans UK Director of Operations said:
"Living in isolation, blind veterans need our help right now with daily tasks, such as the shopping, and constant emotional support through this difficult time. So we are temporarily changing our service and mobilising our staff to provide practical, essential support to help the most vulnerable.

"There is so much that we can and must do to support blind veterans to help them maintain physical and emotional wellbeing, and to feel safe, reassured and cared for during this crisis."