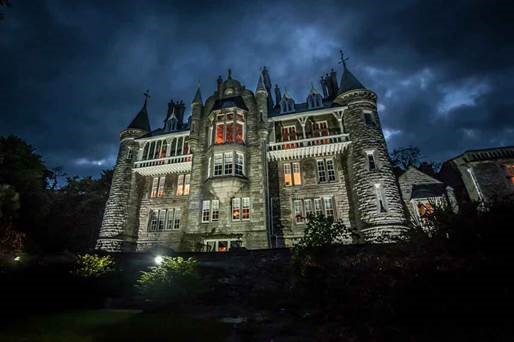 Blind Veterans UK, a local charity for blind and vision-impaired ex-Service men and women, is inviting local residents to join them for a Bond-themed Murder Mystery dinner that promises to leave guests both shaken and stirred.
The evening, titled The Spy Who Killed Me, has been written by A Play Fitted Theatre Company. The event will take place on Friday 13 April at Chateau Rhianfa, Menai Bridge.
Victoria Beech, Regional Fundraiser for Blind Veterans UK, says: "At previous Murder Mystery dinners, guests have always embraced the opportunity to get dressed up and lose themselves in their characters. Selecting the award for best dressed has never been an easy task. The latest script, brilliantly produced and performed by A Play Fitted Theatre Company, will give guests the opportunity to be wonderfully creative.
"Without wanting to Jinx ourselves, we feel this could be our best Murder Mystery event yet!"
The drama will focus on notorious evil mastermind, Herr Otto Matic, as he plans to dispose of his arch enemy and spy extraordinaire, James Pond. Guests will have to work with their fellow diners to crack the mystery, with the murderer being revealed at the end of the evening. Prizes will be awarded to both the winning table and the best dressed contestants.
During the evening, while guests are not troubling themselves with The Spy Who Killed Me, they'll be able to turn their attention to The Spy Who Fed Me, with Chataeu Rhianfa exercising its License to Grill with a mouth-watering four-course menu. After all, All The Food In The World Is (still) Not Enough.
Between the Chicken Liver (Let Die) Parfait, Chicken Leg Bon (the name's James) Bon and delicious chocolate-based Octopuddings, diners will have the perfect opportunity to Diet Another Day. And while, sadly, there won't be any Moneypenne, fans of Italian cuisine will be able to savour the tasty Wild Mushroom Gnocchi
Just remember, whatever you do, don't ask for Her Majesty's Secret Recipe.
Tickets are £40 per person and payable in advance. Pre-booking is essential by Friday 23 March. Vegetarian options are available. For more information, or to book tickets, please contact Suzanne Evanson on Suzanne.evanson@blindveterans.org.uk or 01492 868723. Ticket sales close on Friday 23 March and be warned, they'll likely fly out faster than the passenger seat in Bond's DB5.
For those travelling from afar, there will be bedrooms Galore available at Chataeu Rhianfa. With special rates available for Murder Mystery guests, what's your excuse? After all, you've only live once. Or is it Twice…?
Blind Veterans UK was founded in 1915 and the charity's initial purpose was to help and support soldiers blinded in WWI. But the organisation has gone on to support more than 35,000 blind veterans and their families, spanning WWII to recent conflicts including Iraq and Afghanistan.
For more than a century, the charity has been providing vital free training, rehabilitation, equipment and emotional support to blind and vision-impaired veterans no matter when they served or how they lost their sight. Visit blindveterans.org.uk/support to learn more about the charity and how you can support its vital work today.
For all media enquiries please contact: Felix Arbenz-Caines, PR Assistant, Blind Veterans UK, 12 – 14 Harcourt Street, London W1H 4HD, E: Felix.Arbenz-Caines@blindveterans.org.uk, T: 020 7616 7941
Notes to Editor
Blind Veterans UK
Blind Veterans UK is a national charity that believes that no-one who has served our country should have to battle blindness alone. Founded in 1915, the charity provides blind and vision impaired ex-Service men and women with lifelong support including welfare support, rehabilitation, training, residential and respite care.
Find out more at: blindveterans.org.uk, follow us on Facebook at: facebook.com/blindveteransuk and on Twitter at: twitter.com/blindveterans.