A woman from Liverpool is taking on 40 races before she turns 40-years-old, to raise money for Blind Veterans UK, the national charity for vision-impaired ex-Service men and women.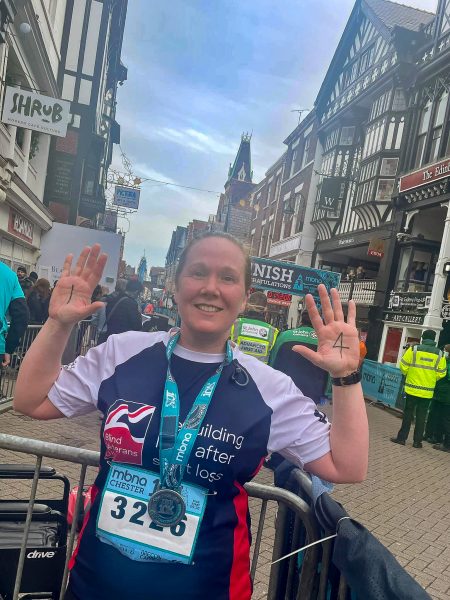 Alison Boag-Munroe, who will turn 40 in July, only took up running at the start of last year when a neighbour encouraged her to give it a go and has now set herself the target of completing 40 races in a single year.
Just after her 39th birthday Alison ran her first race, a 5km run in her home city. Alison said:
"I loved the atmosphere. The time didn't matter to me, I was delighted to not be right at the back of the field and I got a medal for taking part. That was it, I decided I would earn 40 medals to mark turning 40. 

"I'm taking part in the Great North Run in September and that will be my 40th race completed shortly after my birthday. 

"Running is great for my physical fitness and my mental health but rather than just doing this for myself, I've decided to run in memory of my granddad, George, who is my hero. 

"Granddad is someone who truly never gave up and this is something I remind myself of when running. I dig deep and then I dig deeper." 
Alison's grandad was supported by Blind Veterans UK in the last few years of his life after he lost his eyesight due to cataracts and macular degeneration.
George Boag-Munroe, who lived in Liverpool his whole life, was conscripted to the Army during World War Two and was sent to the Far East but within a few days of arriving he was captured in Singapore by the Japanese and became a prisoner of war. He spent nearly three years being put to work on the Burma Railway, including being involved in the building of the embankment for the bridge over the River Kwai.
Alison said:
"Granddad began to lose his sight in his late 80s but didn't want to accept it. The family sought support from Blind Veterans UK when Granddad was in his 90s. 

"I cannot thank Blind Veterans UK enough for everything they did for him. The charity provided him with equipment to help him maintain some independence including a machine that would read books aloud and his treasured talking watch which became an ongoing joke as he was always setting it off.  

"He also went on a holiday to their Llandudno Centre of Wellbeing and although he had initially been reluctant to go, he loved it. The charity made such a positive impact on his quality of life, particularly in the last few years. 

"Granddad passed away 11 days after his 100th birthday. He was overjoyed when we read out his 100th birthday message to him that appeared in the Blind Veterans UK newsletter. 

"I'm honoured to be raising whatever money I can for the charity which supported my granddad and it's also been lovely to have had conversations with people and to make them aware of the charity and what it does. 

"I first put on my running shoes just over a year ago and have now already run 20 races. Hopefully I'll inspire others to take up running to improve their fitness and maybe even join me in raising money for Blind Veterans UK." 
Alison has so far raised £580 towards her £1,000 goal. Help her hit her target by visiting her Just Giving page: justgiving.com/alison-boag-munroe 
Blind Veterans UK supports thousands of blind veterans across the country, but knows there are up to 50,000 more who still need its support to rebuild their lives after sight loss.
If you, or someone you know, served in the Armed Forces, including National Service, and are now struggling with sight loss, then please get in touch. Call 0800 389 7979 or visit blindveterans.org.uk/support